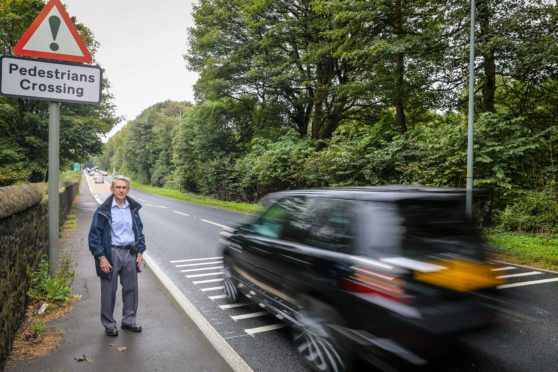 Residents who claim their lives have been made a misery by a new pedestrian crossing which was installed following the death of a nine-year-old Fife boy have welcomed the news it will be altered.
Transport bosses have said they will remove rumble strips from the stretch of A92 in Glenrothes after neighbours in Achray Park and Blairadam Court in Balfarg claimed the noise coming from vehicles hitting them had become unbearable.
Work on the crossing started six weeks ago. It is close to the site of a tragic accident involving a Glenrothes youngster in 2015.
Gordon Latto, who lives just 50 yards away from the busy trunk road, said the noise was way above permitted acceptable levels and was forcing people to remain indoors.
He added: "It's impossible to sit  in the garden because of the noise which is only going to get worse once the trees which act as a sound barrier lose their leaves during winter."
Mr Latto said many households had not been informed that the crossing was to be installed and many in the area believed a bridge would be a better solution.
Now, after concerns were raised with both Traffic Scotland and Bear Scotland, transport bosses have said they will rethink the plans.
In an email to Mr Latto, Alan Campbell, BEAR Scotland's traffic and road safety manager, confirmed a decision had been made to remove the strips.
He said: "The strips were laid as part of a package of measures intended to highlight the presence of the new signalised pedestrian crossing to approaching drivers.
"It was believed that the heavy screening by vegetation on both sides of the A92 at this location would minimise any noise impact of these features on the surrounding area.
"However, whilst the noise generated from the strips did not sound excessive, I can understand why the low and vibrating pitch of the noise caused by vehicles traveling over the strips, the variance of this against other regular road noises and the random timing of when this noise occurs would be intrusive.
"As a result, I have instructed that these strips be removed and we have arranged for a contractor to visit the site on the evening of October 3 to undertake this work."
The news has been warmly welcomed by residents.
"It's a victory for the wee man but most importantly it's a victory for common sense and I must thank Mr Campbell for the way he has listened and acted upon our concerns," said Mr Latto.