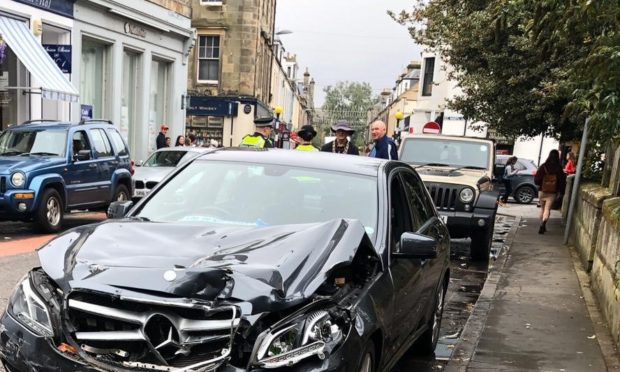 Actor Bill Murray has been involved in a four vehicle road accident while in St Andrews for the Dunhill Links.
The star of Ghostbusters, Groundhog Day and Lost in Translation is understood to have hurt his hand in the collision in Greyfriars Garden on Tuesday.
Wearing a cowboy hat, Murray, who celebrated his 69th birthday on Saturday, could be seen speaking to police officers in the street.
Police Scotland confirmed four vehicles, including one belonging to Fife Council, had been involved in an incident in Greyfriars Garden, which joins the busy thoroughfares of Market Street and North Street, at around 1pm.
A police spokeswoman said: "They have all exchanged details and there is no other police involvement."
Murray is just one of the big names in the Fife town for the Alfred Dunhill Links Championship.
Also taking on the professionals at the Old Course are singer and actor Justin Timberlake and Downton Abbey star Henry Talbot.
Fife Council service manager Tom Henderson confirmed a local authority vehicle had been involved in an incident in St Andrews on Tuesday.
He added: "Until an investigation is carried out it would be inappropriate to comment further at this time."