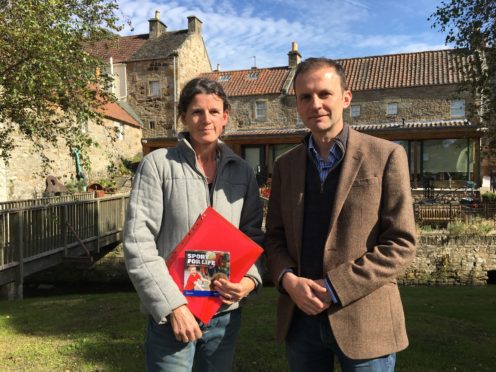 Fife Sports and Leisure Trust bosses have been accused of ducking out of an invitation to face the public to explain cuts to opening hours.
North East Fife SNP MP Stephen Gethins said he sympathised with the trust's financial woes but was disappointed by chief executive Ed Watson's decision not to meet users face-to-face.
Operating hours at Cupar Leisure Centre and at the East Sands Leisure Centre in St Andrews will be trimmed by 12 hours and nine hours a week respectively from October 19.
Users have raised concerns about proposed 9am starts on some weekdays and 2.30pm weekend finishes.
The trust has blamed budget pressures and says the move will save around £84,000.
Mr Gethins said: "It is very disappointing they did not consult with the public before the decision and have not taken up my offer of  a public meeting where they would have the opportunity to hear about the real impact this will have on our communities.
"I have asked them to reconsider that invitation."
Mr Gethins has also called for a clarification on the future of early morning swimming sessions.
He said: "A commitment has been given to ensure that mid-week early morning swimming times will continue at both centres.
"This is a move I am sure constituents would be delighted to hear and confirmation that this relates to five days per week would be welcome."
East Fife Sports Council secretary Hilary Lumsden said she believed the reduction in opening times would lead to more clubs vying for fewer slots.
She said: "Towns the size of St Andrews and Cupar should not have reduced leisure facilities. This undermines efforts to promote a positive ethos around sport and participation."
In a letter seen by The Courier, the trust's chief executive Mr Watson rejected the offer to attend a public meeting in favour of talks with politicians at the trust's Dunfermline headquarters.
Mr Watson wrote: "The change in operating hours is hugely regrettable and is something the trust has strived to avoid, however we have reached a critical point in the business where we need to act to ensure the sustainability of our facilities and services.
"The trust remains committed to minimising any impact to customers so that access to affordable sports and leisure opportunities is delivered."
Commenting on Mr Gethins' call to face the public, Mr Watson said: "I'd like to thank Mr Gethins for his continued interest in the trust and the budget pressures it faces.
"We are in the process of arranging a meeting with Mr Gethins and representatives of Fife Council to discuss the reduction of opening hours with him in more detail."