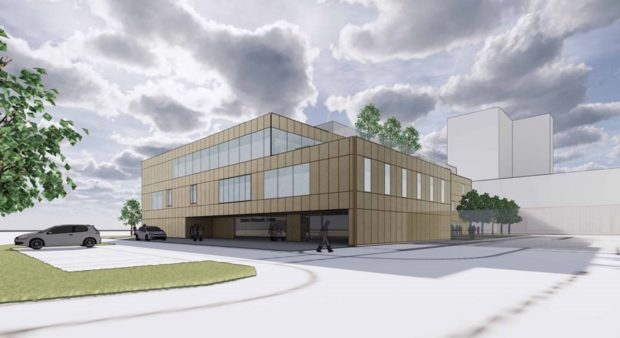 Fife's health bosses hope to make use of robotics technology to assist surgeons at their new £50 million orthopaedics centre.
The surgical robot would also be used to help train junior doctors when the state-of-the-art centre opens in March 2022.
The computer-assisted system can prepare bones for surgery with extremely high precision, exceeding the capabilities of a human surgeon.
It is thought use of the technology can improve patient outcomes.
The desire for a robot was confirmed this week as pictures and a video of the project's proposed design were released by NHS Fife.
Chief executive Paul Hawkins said: "We're looking to have a robot here.
"It would be a robot for learning that would track junior doctors."
An outline business case for the centre will be submitted to the Scottish Government by early October, before going to the NHS Fife board for approval the following month.
The building, in the grounds of Victoria Hospital in Kirkcaldy, will host three operating theatres, a 34-bed supporting ward and outpatient facilities for the nationally-renowned service, commended for its excellence in care by the British Orthopaedic Society.
It will replace its current accommodation in the hospital's tower block, where hip and knee operations have previously been disrupted due to drainage problems.
Managed by Graham Construction, it will be the largest capital project undertaken by NHS Fife since phase three of the Victoria in 2012.
Carol Potter, NHS Fife's director of finance and performance, said the project was progressing at pace and added: "The project team are to be commended for that.
"We have received now the draft drawings of the floor plans and also the external façade.
"That's really the images that will drive interest and excitement."
NHS Fife chairwoman Tricia Marwick said she was pleased with the progress made.
"I am delighted that the project is progressing at pace and is meeting all current key milestones," she said.
"Fife is fortunate to have one of the best renowned and most forward-thinking orthopaedic teams anywhere in the country.
"This new specialist centre will secure NHS Fife's position as the heart of orthopaedic excellence in Scotland."