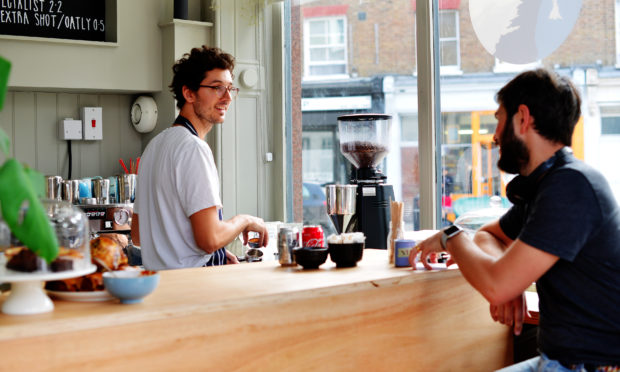 A Fife-born MasterChef semi-finalist has realised his dream by opening a new café in London that combines his passions for cooking and design.
Chef Brodie Williams, from Cupar, who reached the final six of the BBC's 2017 amateur MasterChef series, has opened Annapurna café on Loughborough Road in Brixton.
The 29-year-old, who trained as an architect at Glasgow School of Art before going on to work as an architect for lingerie company Agent Provocateur in London, left behind his career in architecture after finding TV fame and ran a series of supper clubs and private dining events.
Now, with the café in Brixton's former Loughborough Hotel pub connected to San Mei contemporary art gallery, Brodie told The Courier he is relishing curating his own business in a creative environment.
Brodie said: "The space here is really incredible and I've tried to design the café and menu around what I would like and hope that will rub off on other people.
"If you try to be something you're not then you're destined to fail – and if you don't believe in what your business is then it won't be successful."
Brodie always wanted to name his business after a mountain and inspiration came to him when reading Maurice Herzog's classic Annapurna – a gripping depiction of the first expedition to conquer the 8,000-metre Nepalese peak.
When he discovered that, in Sanskrit, 'anna' means 'food' and 'purna' means 'filled', he thought that was perfect for what he does – which is fill people with food!
Brodie, whose mother and father are well-known Cupar solicitors Douglas and Sue Williams, turned up the heat on his cooking credentials as a student in Glasgow after deciding he wasn't willing to survive on Pot Noodle, spaghetti Bolognese and baked potatoes.
The former pupil of Newpark School in St Andrews and the Loretto School, Musselburgh 'raised the bar' of student cuisine by cooking Thai curries, cottage pie and roasts of lamb in his student flat instead.
He was always "quite good" at cooking and was inspired by his mum.
It was when he moved to work in London, however, that Brodie took his home cooking to another level.
And four years ago, with his creative juices needing fulfilled, he decided to start writing a cook book.
With renewed ambitions to become a professional chef, he decided to apply for the MasterChef show in 2016 because he was interested in getting a "professional critique" of his skills.
His laidback approach became a fixture and fitting of the 2017 MasterChef series until he served up a lacklustre venison Wellington and failed to reach finals week.
However, he said he's learned a lot and is loving getting his teeth into a full-time foodie career.