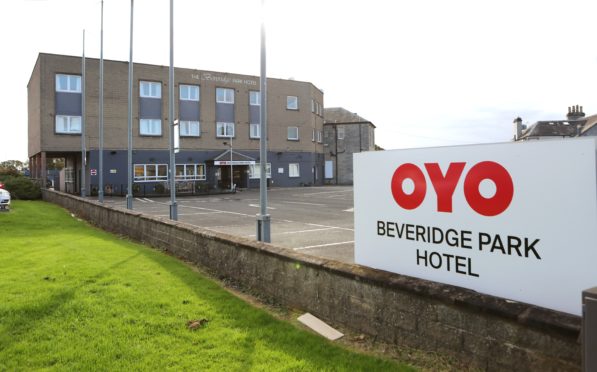 Fears have been raised that scores of people could be left out of pocket or with cancelled bookings after the sudden closure of a prominent Kirkcaldy hotel.
Mystery surrounds the immediate future of the OYO Beveridge Park Hotel after it was placed into administration and closed its doors to guests.
Local couple Bobby and Gina Kumar operated the business, previously known as the Swallow Parkway Hotel, for more than 12 years but ill health has forced the pair to quit.
The Courier has learned a number of guests who had booked rooms for family functions in October have seen those bookings cancelled with little or no warning.
Alternative arrangements made at short notice come with the prospect of paying at least double what was quoted by the Beveridge Park Hotel.
"We just want answers and an apology, but we've got nothing and now have to wait until we get a refund through our booking site which could take several weeks and isn't
guaranteed," said one prospective guest, who did not wish to be named.
Another man contacted us concerned about what will become of £3,000 put
down for his wedding at the venue next year.
It is also understood that at least one member of staff was only told on Saturday the hotel was shutting down the next day and they were losing their job.
A spokesperson for OYO stressed that the company does not own or manage the hotel, having entered into a franchise agreement with the owners in late May whereby the OYO brand name was added to the hotel's name.
It provided technological and operational support but the property remained under its existing ownership and management, while OYO has also stressed that all staff were direct employees of the hotel and not OYO, so it is unclear how many jobs have been
affected.
"We are highly disappointed with the owner's decision to place the hotel into administration and have requested a meeting with the administrators to discuss the possibility of the hotel reopening under OYO's full management," the spokesperson added.
"We see great potential in the Beveridge Park Hotel which is why we chose to work with this property in the first place.
"There were a high volume of future bookings already confirmed and OYO would love to keep the hotel operational to fulfil those future stays.
"Ultimately, this decision will rest with the administrators, so we cannot comment further at this point."
Mr Kumar took to social media to thank all the staff who have worked with him over the years and said he would recommend them highly.