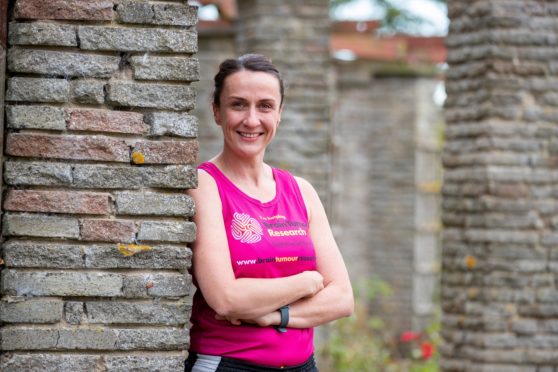 A Fife woman's double marathon mission is inspired by the plight of children fighting brain tumours.
Kellyanne Muir, 37, decided to run two marathons to raise £2,479, the cost of one day of research into the cancer.
Brain tumours kill more children and adults under the age of 40 than any other cance.
However, only 1% of national spending on cancer research is allocated to the disease.
Having seen children and families coping with the devastating impact of the illness the police officer, from Kirkcaldy was determined to help.
With the backing of fellow runners, police colleagues, family and friends she has already smashed her fundraising target, having collected around £4,400 with one marathon still to go.
Kellyanne and fellow runner Paul Frape, both members of Kirkcaldy Wizards running group, launched a virtual miles challenge in which people could run, walk, swim or cycle 52.4 miles – the distance of Kellyanne's two races.
The mother-of-four said she was overwhelmed by the backing.
She said: "It is heartbreaking that so many of these battles are lost.
"What I have seen, it's horrible. The treatments haven't changed in years. Every £2,749 pays for a single day of research and more needs to be done.
"I have only ever done one marathon, which was six years ago, and I challenged myself to do two marathons in a year. I wanted to feel I was contributing to the research."
Kellyanne completed the Strathearn Marathon in June in an impressive time of three hours 42 minutes.
Later this month she will take on The Dramathon, in Speyside, a challenging route including hilly terrain, which she admitted terrifies her.
She said: "It's not just physical, it's the mental challenge of it all.
"I know the last few miles will be tough but it's nothing compared to what I have seen over the last year, what those kids have been through."
Knowing so many people are supporting her will help Kellyanne over the finish line in Dufftown.
Some 165 people have signed up so far to the virtual miles challenge, including fellow Wizards, runners from neighbouring clubs and police officers, raising around £2,500.
Kellyanne said: "The support the Wizards have given me is amazing. I had raised just over £1,000 before Paul came up with the idea of the challenge when we were out running.
"It's been so successful, it's overwhelming."
Donations which will go to the Brain Tumour Research charity can be made on Kellyanne's Justgiving page. There is a Facebook page for the Kirkcaldy Wizards virtual miles challenge.