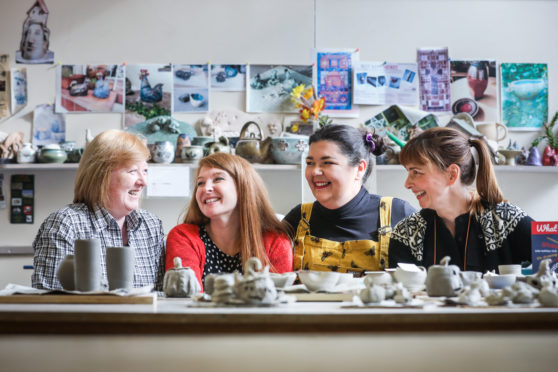 A popular community arts centre in Newport is looking to expand into a new larger building in the town.
Forgan Arts Centre, which is celebrating its 42nd year, has submitted the early stages of a community asset transfer application to take over Leng Home, next to Waterstone Crook Sports Centre, after learning the property will soon become empty.
The three-storey building is currently used as a day centre for elderly people with a range of physical, learning and dementia needs but the group only require one room for a portion of the day. Fife Council intends to move them to a more suitable facility.
The team behind the arts centre hope the move will give them space to eventually provide a wider range and larger number of classes and services as their needs have outgrown their current home.
As well as having more indoor space, including a commercial kitchen and extensive storage, the new property has vast grounds that house allotments and community gardens.
It is hoped the building would provide opportunities for more local social enterprises to work with the centre and create a sustainable income to help secure its future.
Chairwoman Lynsey Smiles said her initial concern had been finding a place where the group could continue but she soon began to realise the opportunities a move could create.
She said: "When we really started looking at it and started talking about what we really wanted to do, everyone got really excited because there are so many ideas and so many positive things that could be added to the community here.
"We eventually thought: 'this isn't a bad thing, it's actually a really positive thing'. We're really good at this and we should get to do more of it."
Centre coordinator Alana Peden said she was excited for the opportunity to build the community around Forgan Arts Centre.
"We were worried that if we pick up and move people might be disappointed," she said.
"People love the building, everybody loves this building, but they very much see the Forgan Arts Centre is us. It's far more than just a building."
The lease terms that had been offered to the centre on the existing property would have left it responsible for the building and its maintenance, and unable to apply for any capital funding.
Forgan Arts will host the second Forgan Future Fest on October 20 at the Rio Centre and has asked local residents to attend and share feedback on the plans. Submissions are also welcome on its website or on social media.