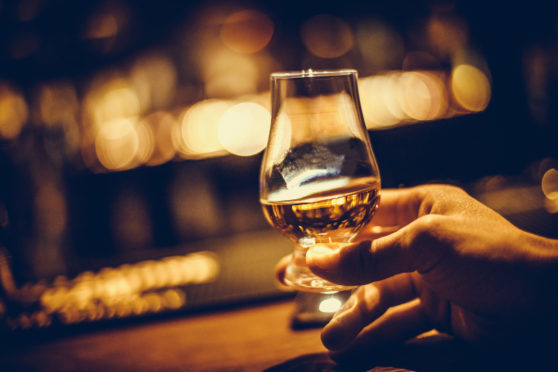 Hundreds of jobs could be at risk in Tayside and Fife as a result of the US' decision to place huge tariffs on goods including whisky and cashmere products.
A 25% levy will imposed on a range of items from the European Union as early as October 18 as part of President Donald Trump's latest salvo in a long-running dispute over subsidies for Airbus.
Single malt Scotch, French wine and Italian cheese are among the products which will see tariffs imposed on them but wool made for weaving woollen and cashmere items are also in the firing line affecting spinning, dyeing and weaving firms in the area.
Local firms are braced for a heavy blow.
Scotch whisky exports to the US were said to be worth £1 billion last year, with the industry supporting 11,000 people across the country.
Karen Betts, chief executive of the Scotch Whisky Association, fears the tariffs could put jobs and investment at risk.
"Despite the fact that this dispute is about aircraft subsidies, our sector has been hit hard, with single malt Scotch whisky representing over half of the total value of UK products on the US Government tariff list (amounting to over $460 million).
"The tariff will put our competitiveness and Scotch whisky's market share at risk.
"We are also concerned that it will disproportionately impact smaller producers.
"We expect to see a negative impact on investment and job creation in Scotland, and longer term impacts on productivity and growth across the industry and our supply chain.
"We believe the tariff will also have a cumulative impact on consumer choice.
"For the last 25 years, trade in spirits between Europe and the US has been tariff-free.
"In that time, exports of Scotch whisky to the US and of American whiskey to the UK and Europe have grown significantly, benefiting communities on both sides of the Atlantic, boosting investment, employment and prosperity for all.
"For this reason, the Scotch Whisky Association – alongside American and European spirits producers – has urged the EU and the US not to draw spirits into trade disputes that have nothing to do with our sector."
One of the companies which could be affected is Mary Queen of Scots Enterprises (Kinross) Limited, which has the registered trademark of MQOS in eight commercial classes including beer, cashmere, diamonds, fudge and blended malt Scotch whisky.
Graham Hadley, company director, said the current US threats will undoubtedly have an impact.
"The threatened imposition of US tariffs on single malt whisky and cashmere and Scottish wool products could not have come at a worse time.
"With the continuing drama surrounding Brexit and the consequent business uncertainty involved, it is not a great time for business optimism."
However, he added:  "The quality of Scottish luxury items will always find a willing market and the subtle hidden message from Washington might just be for Scottish companies to look east to India and China with renewed efforts. All is not lost."
Gary Smith, the Scotland secretary of the GMB union, said the move represented a "troubling glimpse into the post-Brexit future" for the UK.
He said: "Scotland and the rest of the UK are sitting ducks after October 31.
"The collective strength we have in the EU trading bloc will be gone and there is simply no such thing as a 'special relationship' with the United States – Trump will squeeze the UK economy for everything he can get."