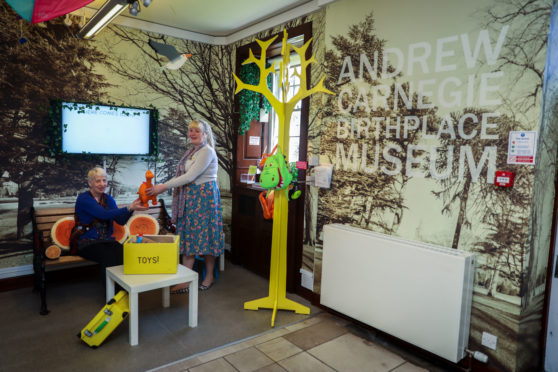 A museum which celebrates the birthplace of one of Fife's most famous sons has scooped a national award.
The Andrew Carnegie Birthplace Museum in Dunfermline has been named the UK's best heritage attraction for families at an awards ceremony in London.
The Kids in Museums Charity awards the prize annually to one museum, gallery, historic home or heritage site in the UK that goes the extra mile to provide a great experience for families. It is the only national museum award to be judged by families.
The Dunfermline landmark is the first Scottish winner of the award, fending off competition from more than 800 nominations which were whittled down to a 14-venue shortlist.
The museum received glowing reviews from judges who praised its welcoming staff, colour-coded family zones, year-round programme of activities, sensory backpacks, hands-on exhibits and facilities.
The accolade caps off a big year for the team as they marked the centenary of the death of the famous steel magnate. The museum explores the legacy of Carnegie, who emigrated from humble beginnings in Dunfermline to America where he became the richest man in the world and the father of modern philanthropy.
Andy Croxford, of the Carnegie Development Trust, said the announcement that they had won had come as a huge surprise.
He added: "We never thought we would actually win the award. It's safe to say it has come as quite a shock, but a welcome one, of course.
"It encapsulates the dedication of our team of staff and enthusiastic volunteers who work hard to ensure that every one of our visitors has an engaging and memorable experience."
The award puts the Fife museum in esteemed company with previous winners including the People's Museum in Manchester, York Art Gallery, Leeds City Museum and the National Maritime Museum in Cornwall.
Emmajane Avery, chairwoman of Kids in Museums, said: "I'm thrilled to see the first Scottish winner of the Family Friendly Museum Award, particularly in the award's biggest year yet.
"This success is an excellent illustration of how museums, regardless of their size or budget, can provide a great experience for families.
"Congratulations to the team at the Andrew Carnegie Birthplace Museum who are doing great things to welcome children and families."