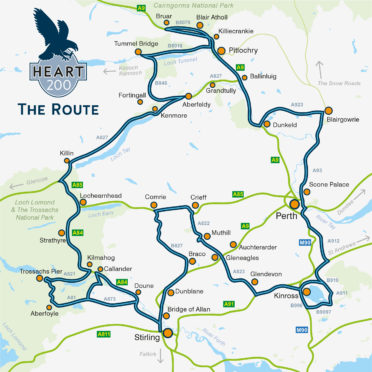 Watchdogs have cleared Perth and Kinross Council of wrongdoing over its handling of a £45,000 award to a controversial tourism project.
The local authority's backing for the Heart 200 tourist trail was referred to Audit Scotland earlier this year by Perth and North Perthshire MP Pete Wishart.
He worked with Glen Lyon and Loch Tay Community Council on the submission, which raised concerns that the funding was allocated in 2018 as part of the full council budget, without an economic or environmental impact assessment.
Mr Wishart said there were also questions over tendering process.
However the investigatory body has now said it does not intend to pursue a case.
An Audit Scotland spokesperson said: "After careful consideration, they do not currently plan to investigate the matter further.
"However, the information Mr Wishart has provided has been added to the intelligence informing the planning of the 2019/20 audit. The auditors would report on any significant issues in their annual audit report."
The SNP MP has accused Audit Scotland of not taking the concerns seriously.
He said: "I'm thoroughly disappointed by this. I'm going to be in touch with the communities I've been working with to see what options we have now.
"This is £45,000 of public money going to a private organisation with no tendering. I hope it doesn't set a precedent going forward."
The verdict has been applauded by both Heart 200 and the local authority.
Heart 200 founder Robbie Cairns said: "We welcome Audit Scotland's decision and, indeed welcomed the call for Audit Scotland to investigate in the first instance, as we were very comfortable that Perth and Kinross Council's funding decision would stand up to scrutiny."
A council spokesperson added: "We have an exemplary record in financial management, and a robust approach to self-evaluation through our normal audit process, and we are pleased to hear that Audit Scotland do not intend to investigate this matter further.
"The findings of the Best Value Assurance report highlighted our effective approach to financial planning, and acknowledges that we are well placed to deal with any current and future financial pressures.
"This aligns with our Perth and Kinross Offer, where we work with communities as partners and co-producers."
Heart 200 was launched earlier this year as a 200-mile road trip for tourists through Perthshire, Stirling and the Trossachs.
The aim is to bring visitor trade to communities a little further from the beaten track, however some locals were concerned about the impact on their areas.
The route has already been adjusted due to fears the project would drive huge amounts of traffic onto unsuitable routes and Heart 200 bosses held what were described as productive talks with Glen Lyon and Loch Tay Community Council and Kenmore and District Community Council earlier this month.