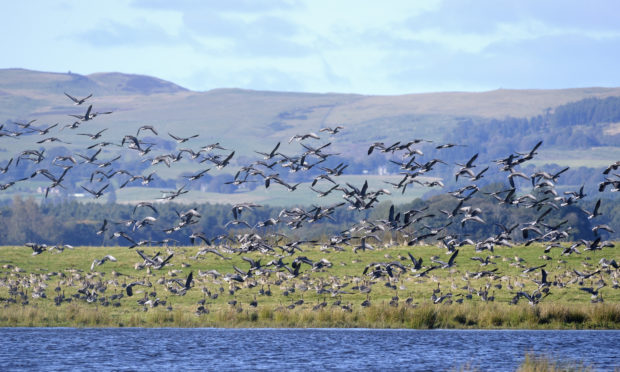 Photographers have captured stunning images of wild geese and waders flocking to Scotland.
Images taken at Scottish Natural Heritage (SNH) national nature reserves at Forvie, Loch Leven and Caerlaverock have revealed the mass migration of wild birds heading south from Iceland, Greenland and Svalbard.
At the Kinross-shire reserve, a mass migration of pink-footed geese from Iceland can be seen every October.The loch has been selected by SNH as one of their top three places in Scotland for autumnal bird-watching, along with Caerlaverock near Dumfries and Forvie in Aberdeenshire.
There may be as many as 20,000 to 25,000 geese at peak times, making up almost a tenth of the global population.
The geese can be identified by their loud honking calls, which can often be heard when they fly in their famed v-formation in large flocks known as skeins.
Reserve staff have also said that a high numbers of other wild birds, such as tufted ducks, coots, teal and pochard arriving at Loch Leven too, with the whooper swan, another Icelandic nesting species.
These other species can total a staggering 10,000 to 15,000 birds out on the loch.
SNH's nature reserve staff have revealed their insider tips on the top times and places for keen ornithologists to see and photograph geese and waders.
---
>> Keep up to date with the latest news with The Courier newsletter
---
According to the expert team, the best place to view birds is from the Kirkgate viewpoint, particularly in the early morning as first light breaks the horizon.
The team also say that evenings are a good time to visit, with geese returning to roost on the loch as the sun sets.
Stuart MacQuarrie, SNH's head of nature reserves, said the flock looks spectacular from the Loch Leven Heritage trail.
He said: "To see a flock of geese as they lift off from their night-time roost is one of Scotland's greatest wildlife spectacles. It's such a remarkable aerial display, made even better by the chorus of their high-pitched calls.
"These amazing birds migrate as far as 3,400 miles to reach Scotland for their winter feeding, before returning to more northern climes in the spring.
"And there's plenty of time for people to come out to one of our nature reserves over the next few months and see this marvellous display for themselves."