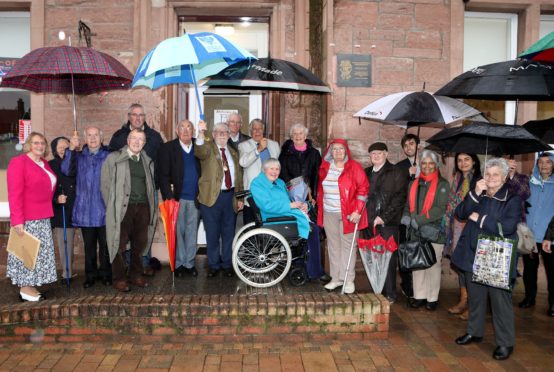 A plaque to commemorate the life of a Perthshire pioneer who invented the life-saving full body MRI scanner has been unveiled in his hometown of Alyth.
Professor James Hutchison developed the Magnetic Resonance Imaging (MRI) scanner while working at Aberdeen University in 1980, changing the face of his medical field forever.
The professor, who liked to be known as Jim, died in September last year at the age of 77.
Dr Margaret Hutchison, his wife and colleague, said he would have been thrilled to be remembered this way in the town which never left his heart.
Dr Hutchinson said: "He would have been pleased and humbled.
"He was not a person for putting himself forward and was quite shy in a way, though one you got to know him he was relaxed and quite funny. That is how a lot of his friends remember him.
"Jim was a very good human and he would have been quite touched by this.
"That he should be remembered here in his home town means a very great deal to me because I know his heart was always here. He truly was at home in Alyth."
Prof Hutchison was born in the Perthshire town at Barony Park and went to Alyth and Blairgowrie schools before travelling to university in Aberdeen.
After finishing his studies, he joined the Aberdeen Medical Sciences group and it was there that his work on the MRI got under way. It was also where he met his wife to be.
She said: "His parents were still living in Barony Park and we used to come down once every fortnight or three weeks and stay with them.
"They died in the late 80s and early 90s but even after that both Jim and I would come down here every so often. We would stay in the hotel and walk around the town."
Dr Hutchison unveiled the plaque on the town's market square surrounded by family and friends, members of the community and the Provost Dennis Melloy.
The Provost had been approached by an old school friend of the professor, George Robertson, last year to see if a memorial could be set up in his memory.
The project went ahead with the help of Ian Donaldson from Alyth Community Council. The plaque was approved by Dr Hutchison and unveiled on Friday.
Provost Melloy said: "I was delighted to see so many Alyth residents standing in the pouring rain for the unveiling of Professor James, Jim, Hutchison plaque by his widow Dr Margaret Hutchison.
"This was a community project remembering a brilliant man who helped save so many lives.
"Among those attending were former pupils who went to school with him at Alyth Primary and Blairgowrie High Schools who called him the Professor, not realising that he would one day be an eminent professor in his own right."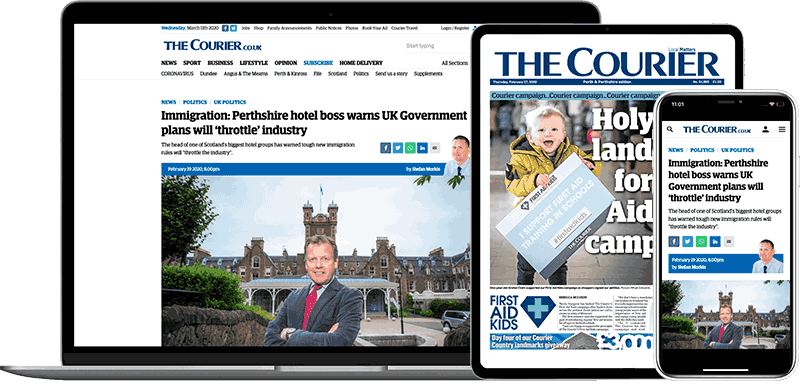 Help support quality local journalism … become a digital subscriber to The Courier
For as little as £5.99 a month you can access all of our content, including Premium articles.
Subscribe