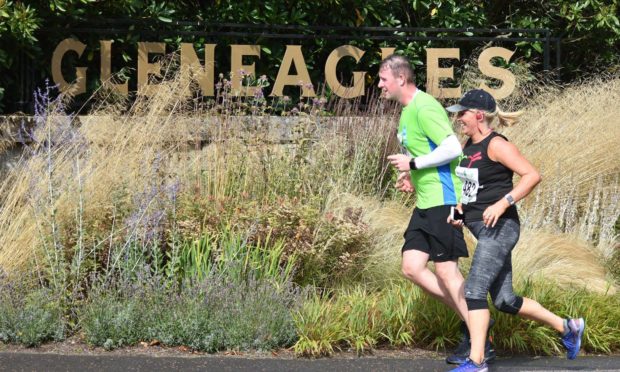 More than 1,000 athletes will pound the pavements in and around Auchterarder next month as the town's Running Festival returns bigger than ever.
The 2019 programme will be staggered over two weekends. Organisers opened entries for the 10k, half marathon and "Chilli Pepper Trail" six months ago, with all three events selling out in just two days.
The community orientated event begins on November 2 and 3, when 750 people will take part in a 10k on Saturday and the same again in a half marathon on Sunday.
Both runs will start and finish at Gleneagles Equestrian Arena and more than 200 entrants are taking on the two challenges.
Race director Fiona Watt said: "Runners have the opportunity to do what we call the double dare, both races back to back. It makes it pretty special and totally unique.
"A lot of athletes are returning and we've got runners from all over Scotland, as well as some from England, taking part.
"We've increased the capacity to 750 for each, and I think that's as big as we'll make it."
The following weekend, the team will be cranking up the heat and introducing a race with a difference.
The Chilli Trail is as 10k route starting and finishing in Auchterarder town centre and winding through the Ochil Hills. It owes its name to its shape on the map which, to the delight of organisers, resembles a pepper.
Waiting for runners at the finish line will be a colourful chilli-shaped medal designed around the Scoville Scale which measures the heat in the delicacies, along with a packet of chilli seeds.
Fiona added: "We introduced this race as trail running has a different vibe, and it's more about taking in the surroundings. It's pretty hilly and there's even a river crossing."
She said the event had grown steadily in popularity and was now a big draw for the town.
"We wouldn't be able to do it without all the community support," she added.
"We've had lots of backers over the last three years and 60 volunteer marshals helping us out, who are all crucial to the race."
Colin Farndon, Gleneagles' Leisure Director, said it was helping to put the town on the athletics map.
"Along with our partners, we established Auchterarder Running festival as a wellness initiative, to encourage people to get outside and enjoy the fresh air within the beautiful setting of our estate and the wider Perthshire countryside," he said.
"Now in its third year, the festival has become a hugely popular fixture on the sporting calendar: the places sell out within days, many people from the local community participate each year including 40 of our own staff, and the number of entrants has doubled since the first event in 2017.
"We look forward to welcoming runners from our local communities and from all over Scotland and the UK to the event again next month."