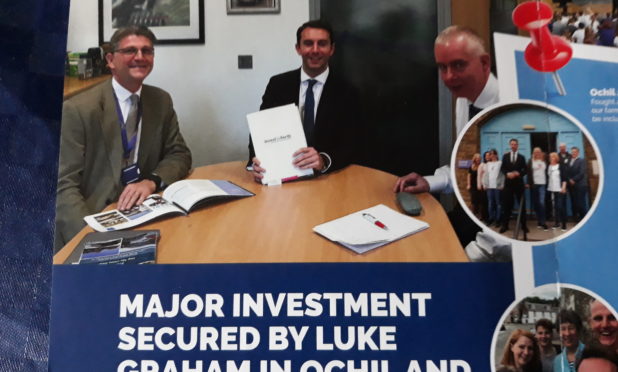 A Tory MP has been forced to pull campaign leaflets after a complaint from Perth and Kinross Council.
The local authority objected to material distributed by Luke Graham's constituency office, which featured an image of council officers.
The Ochil and South Perthshire MP has apologised and promised to destroy the leaflets, but stressed he had obtained permission from the officers, including depute chief executive Jim Valentine.
The issue was raised by local Liberal Democrat group leader Peter Barrett, who described the publication as an "absolutely outrageous exploitation of non-political public servants to further the political ambitions of Mr Graham and the Conservative party."
He has called for Mr Graham and Conservative councillor Caroline Shiers – who is listed on the leaflet as a promoter – to report themselves to the Information Commissioner's office.
"Councillor Shiers should consider her position as a council committee convener. She needs to fully comprehend the impact this breach will have on destroying the trust between senior officers and councillors," he said.
A council spokeswoman said: "Senior officers became aware of the leaflet on October 8 and immediately contacted Mr Graham.
"The officers received an apology and confirmation that the image would no longer be used in any social media, printed material or any further leaflets delivered and that existing stocks of the leaflet would be destroyed."
The offending image shows Mr Graham sitting with Mr Valentine and another officer, above the headline "Major investment secured by Luke Graham in Ochil and South Perthshire".
It is understood the photograph was taken in Mr Valentine's office at the council's High Street HQ.
A spokesman for Mr Graham's office said: "The photo used in this leaflet was obtained with permission of the council officials involved at the time.
"As per General Data Protection Regulations, permission can subsequently be withdrawn and Luke's office will always comply with this."
He said: "The picture in this leaflet is part of the annual report. It is not an election leaflet as we are not in an election period.
"The Scottish Conservatives make no apology for working hard on behalf of their constituents, and meeting with officials is a key part of this. Luke himself has carried out 8,600 pieces of casework so far, and he will continue with his efforts to best represent them."
When asked about the leaflet, Ms Shiers referred to the statement issued by Mr Graham's office.