VIDEO: Perth city centre closed off for four hours after cocaine addict threw TV and mixing deck out of window
A father who hurled a TV, a digital TV box and a 15 kilo DJ mixing desk out of a third-floor window forced police to close off a city centre for four hours.
Cocaine addict Kevin Smart endangered the lives of members of the public by throwing the heavy electrical goods from his flat during a stand-off.
Smart launched the 10kg television out into the street – around 40 feet below – followed by the 5kg Sky box and then the mixing console.
VIDEO: Perth city centre road closed off for four hours as police attend 'disturbance'
Perth Sheriff Court was told he had no regard for anyone in the street and could have killed a passer-by if they had been struck by the large electrical items.
The court heard on another occasion his own parents had to tie his legs with electrical cable to stop him lashing out at his father David. They pinned him to the ground while waiting for police to arrive.
Smart, 30, of Kinnoull Street, Perth, admitted culpably and recklessly throwing items into the street to the danger of the public on June 29.
He also admitted struggling violently with David Smart in Talisker Place, Perth, on October 13, and acting in a threatening or abusive manner at his home on February 24.
Depute fiscal Mairi Graham said: "Officers were of the view that due to the weight of the items and the height from which they were thrown, they would have posed a serious danger to life if they struck anyone.
"The road and footpath remained closed for four hours while the incident was ongoing.
"It was 1am on a Saturday morning and the street was busy with revellers enjoying a night out. The items were thrown into the street below."
On October 13 Smart woke up his sleeping parents at 3am and his father came downstairs to tell him to be quiet and go to his bed.
The court was told Smart, who had taken cocaine and alcohol, became aggressive and shouted and swore at his father before grappling with him.
His mother Marion eventually came downstairs to find her husband and other son holding Smart down, although he was still trying to kick them.
"He was screaming and shouting and his legs were lashing out," said Ms Graham.
"She had to secure his legs using an extension cable to prevent him kicking out until the police arrived."
Solicitor David Holmes, defending, told the court that Smart needed help following the break-up of a relationship and had problems with drugs.
Sheriff Gillian Wade told Smart: "This was extremely serious and threatening to members of the public."
He was placed on a curfew for 18 weeks, to be lifted at weekends because his former partner is a DJ and he helps with childcare.
He was also placed under social work supervision for 18 months and ordered to undergo drug and alcohol treatment.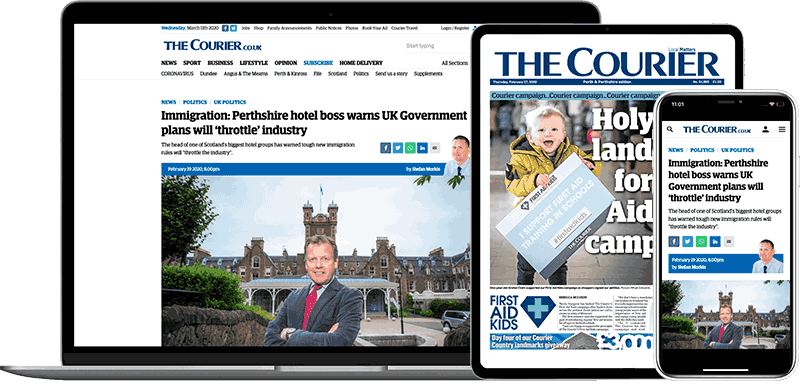 Help support quality local journalism … become a digital subscriber to The Courier
For as little as £5.99 a month you can access all of our content, including Premium articles.
Subscribe