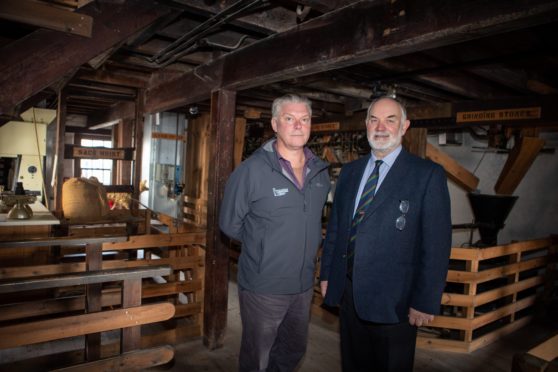 Perth and Kinross Heritage Trust has moved into an A-listed building in what is described as a "historic month" for the organisation.
The trust is now based in the city's Lower City Mills, having previously worked from The Lodge adjacent to Perth's A K Bell Library.
Director of the trust, David Strachan, spoke of the significance of the building.
He said: "Perth City Mills are nationally important, with remarkable group value, and the contents of the Lower City Mills are a heritage gem in the heart of Perth.
"Perth and Kinross Heritage Trust is delighted to be leading in the long-needed conservation of the building, and in making the mill accessible, to some degree, to the public once again."
The move has been supported by Perth and Kinross Council through the lease of the building to support its repair and to help secure a sustainable future for it.
It will see enhanced use as offices, a heritage attraction, and a building conservation centre.
Coming from Perth's agri-industrial past, the mill still houses its internal machinery. It also acted as a visitor attraction through the 1990s until the early 2000s.
Council leader Murray Lyle said: "Perth and Kinross Council are delighted to be able to have helped the trust move into the Mills.
"The council look forward to working with the trust and others to use the building to its full potential as an important historic tourist attraction within Perth and as a centre where heritage skills can be developed to support the repair and improvement of historic buildings throughout the city and surrounding area."
Following an extensive programme of restoration in the 1980s, the building became an attraction with craft workshops, a tearoom and a shop.
However, public access ended in 2001 after which the mills served as office accommodation for VisitScotland until June of this year.
Now in the hands of the Heritage Trust, a key aim of the project for the building will be to engage the population in Perth in uncovering the full history of the mills.
Anyone with information, stories or photographs relating to the mills are urged to get in touch with Perth and Kinross Heritage Trust.