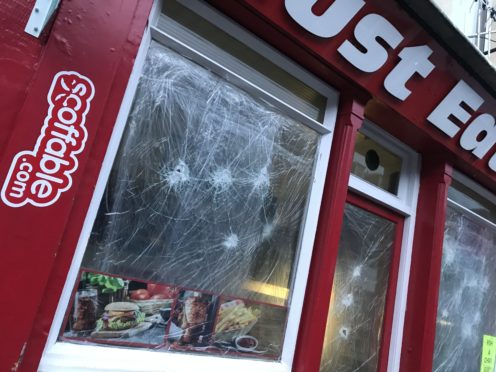 A Perth takeaway has been targeted in an alleged hate crime, weeks after it was last attacked.
Must Eat, on North Methven Street, had its windows smashed again on Friday evening following a similar incident at the beginning of last month, which cost the owners around £2,000 to repair.
Now staff are calling the attacks hate crimes. They come after police were called due to racial abuse.
The shop's manager, Laeeq Rehman said the damage was worse this time around.
He said: "The door frames are worse this time and the new TVs were damaged.
"It cost us around £2,000 to fix them last time.
"It is quite horrible to be honest.
"And we have a lot of part time staff and they are quite young like 16, 17 years old."
Mr Rehman added he "doesn't know why this has been happening."
One employee of the city centre takeaway spoke of the impact of this latest attack, saying it has affected morale among the owners and staff.
He added it may have economic consequences for both the takeaway's owner and his employees, describing the attack as a "hate crime".
He said: "I think the owner is very disappointed and we really feel sorry for him.
"We might all lose our jobs if he closes. There are three full time and four part time employees, and three drivers that work for the shop."
This is second time in around four weeks that the premises has been the target in such an attack.
In early October, the city centre takeaway had three of its windows smashed. The week before, staff were subjected to racial abuse.
But following this most recent attack on the premises, Mr Rehman's employee spoke of his hopes for the local community in tackling this type of behaviour.
He said: "I think that maybe if we bring this notice to the community, the community can come together against hate crime."
A Police Scotland spokesperson said: "We are looking into this incident and if anyone has any information, they should call 101."
Alternatively, those wishing to remain anonymous in providing information relating to this matter can call the charity Crimestoppers on 0800 555111.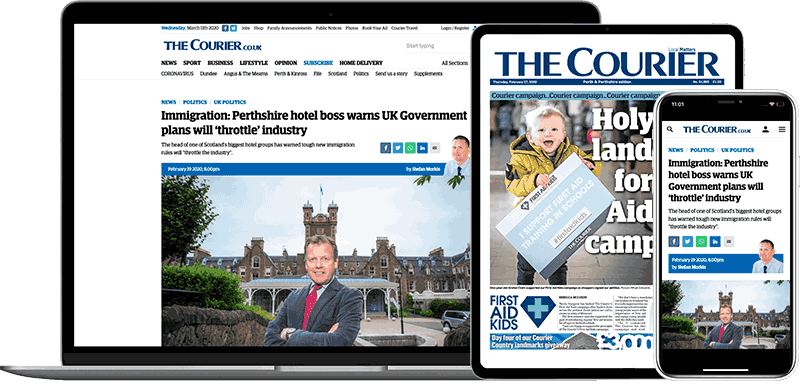 Help support quality local journalism … become a digital subscriber to The Courier
For as little as £5.99 a month you can access all of our content, including Premium articles.
Subscribe