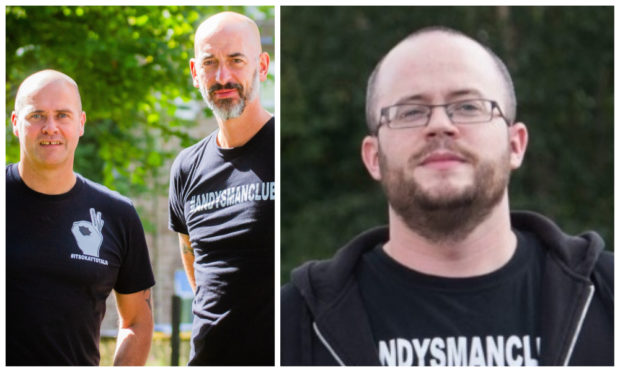 Members of Andy's Man Club in Perth have spoken candidly about their experiences with the group as they attempt to highlight the benefits of talking about mental health.
Nicol Lumsden, Jamie Mackie and Colin McNicol gave a presentation on Wednesday to councillors and health workers as they opened up about their history with mental health.
The group told the Integration Joint Board (IJB), made up of council and NHS Tayside representatives, about the positive effect the club has had on them.
The Perth branch was launched in 2017 by Alex McClintock and Adam Allison. It meets every Monday and has grown from five attendees to 50 most weeks, with their highest ever attendance last week of 61.
Nicol said he was diagnosed with depression, anxiety and insomnia in 2016.
In October 2017 "things really went downhill", he said, which is when he was first introduced to Andy's Man Club.
Nicol sat in the sessions for four weeks not speaking to anyone and with headphones on.
On November 14 he had a "really bad day" and found himself on a bridge in Perth ready to take his life.
Nicol said: "I was getting some pretty dark thoughts. That I was getting in the way of everyone.
"I decided to walk from my house into town.
"There's a four-hour gap I don't remember. At 1am I was found.
"Someone had seen me on the bridge and phoned the police and I was dragged back off the bridge and put in a car."
Nicol later got the chance to meet the person that called the police that night, calling them "a saint".
It was while in recovery from that night that he truly felt the benefits of Andy's Man Club.
He said: "A bunch of guys from the group contacted me and that was massive.
"I went back to the group and in these weeks I was able to see what goes on.
"I was asked if I wanted to to run the group, I was honoured, how could I say no?
"From there everything has gone from strength to strength.
"We spread the word that it's good to talk."
James Mackie joined the group after suffering mental health problems for seven or eight years, resulting in an attempt on his life after he lost his mother.
Andy's Man Club again helped with his recovery and talking about his mental health.
He said: "It took me four weeks before I went to Andy's Man Club and spent another three weeks after that sitting in the car park.
"I won't lie, at first I thought it was all a bit weird but when you keep going back, the support you get from guys who have been where you have been, it's the best thing I have ever done in my life."
Councillor Eric Drysdale, chairman of the IJB which is helping to develop a new mental health strategy, called the presentation "very important".
He said: "It took immense courage to stand up in front of these people that you have never met before and give this presentation, so once again, thank you very much."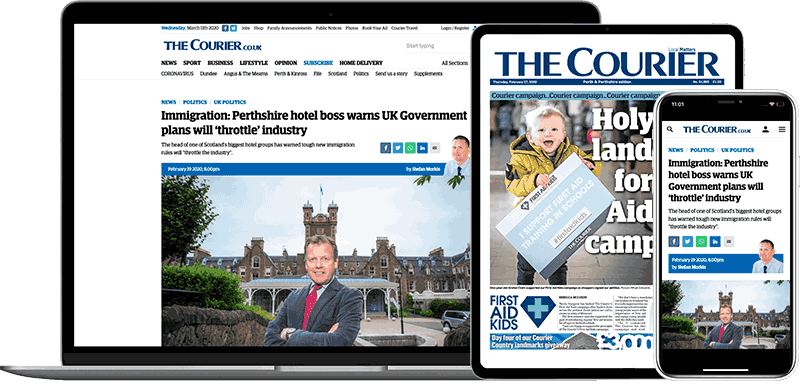 Help support quality local journalism … become a digital subscriber to The Courier
For as little as £5.99 a month you can access all of our content, including Premium articles.
Subscribe