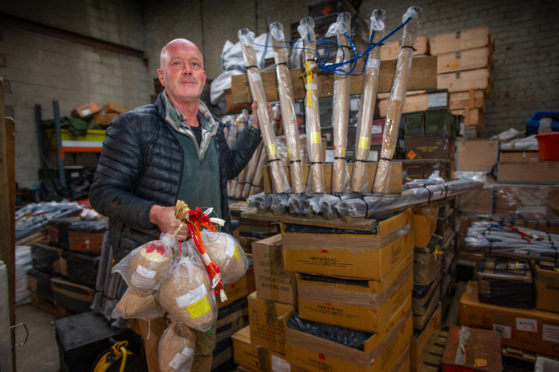 A popular fireworks display has been cancelled after the organisers were hit with a bill for £1,800 by Perth and Kinross Council
The Coupar Angus show was supposed to take place at Larghan Park on Friday but it has been called off after the council invoiced Blast Design for two events in 2016 and 2017 and for work to move a fire pit.
The company has run the event in Coupar Angus at no cost for 12 years.
Blast Design owner John Kettles claims he was not invoiced for the admin fees for the 2016 and 2016 displays and did not ask the council to move the fire pit or build a hard stand, for which he has has been charged £1,500.
Perth and Kinross Council insists the firm did agree to pay for part of the costs.
Mr Kettles said: "Perth and Kinross Council have put in a hard stand to put the bonfire on and sent me a bill for £1,500.
"Then they said we can't do the fireworks if we don't pay the bill. I don't really know why the council are charging me because I never asked for it."
He added: "We get people coming from all over the area and several thousand from Coupar Angus. It's the second biggest in Perthshire. It costs us about £4,000 on fireworks alone.
"We put several thousand pounds a year back into Coupar Angus from the money we collect and the community collects in buckets."
Deputy First Minister John Swinney has written to Perth and Kinross Council asking it to find a solution.
Mr Swinney said: "The news that the traditional Coupar Angus fireworks display is now in jeopardy will be greeted with sadness across the community.
"This is a much-loved event that has been part of the town's calendar for well over a decade."
A council spokesperson said: "The invoice that has been issued is for a contribution to the relocation of the hardstanding area and fire pit, all as agreed with Mr Kettles in 2017.
"In addition, there are outstanding payments for administrative fees for events held in 2016 and 2017, which are charged for all community events expected to draw over 100 people.
"Our policy very clearly states that if there are outstanding fees owed to the council from event organisers, then permission will not be granted for further events.
"We have sent regular communications to Mr Kettles to try and resolve the matter but he does not respond."