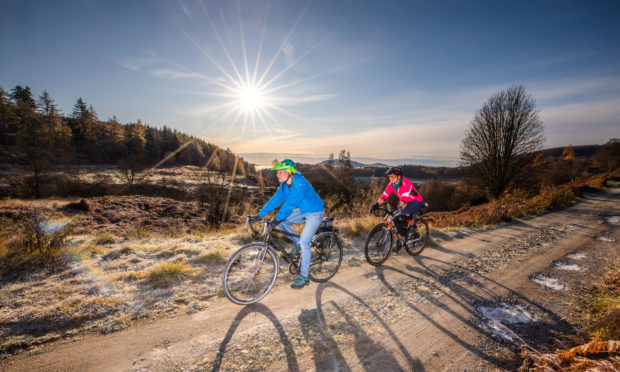 Work is under way to begin mapping thousands of miles of tracks and trails in Highland Perthshire in a bid to peddle more cycling holidays in the area.
The Perthshire Gravel Trails project, run by Highland Perthshire Cycling, launched near Dunkeld on Wednesday as organisers look to pave the way for cyclists to leave the roads behind them.
Organisers believe more people will visit the area to cycle through the scenic hills and moorland if the off-road trails have been formally mapped, eliminating the fear of the unknown that comes with leaving the beaten track.
Backed by funding from SSE and the Perth and Kinross LEADER programme, work is beginning on the first phase of the project, which will see around 200 miles of trails around Atholl and Murthly Estates charted and documented with photographs, videos and various accessibility information.
This is just the beginning for the project team, who hope to emulate the success of a similar project in Argyll which has seen more than 600km of tracks and trails around mapped.
It is hoped the project is hoped will bring a connectivity that links every aspect of the region's tourist economy, and offer cycling packages that tie accommodation with equipment hire, as well as helping bars, cafes and restaurants become more cyclist friendly.
Highland Perthshire Cycling trustee Mike Stead said the group hope to be a pioneering body for promoting cycle holidays across the UK.
He said: "You can get on the Caledonian Sleeper in London at 10pm, and by 10am the next morning be cycling in the wilderness at Dunkeld, with your accommodation and bike ready for stepping off the train.
"We have a fantastic resource here and we hope it will be the first of many, as it could work in places like Aberdeenshire and Aviemore."
Mike thinks the Perthshire moors are an untapped resource which, with some investment, could enhance the tourist economy.
"Worldwide, the trend is for people to use wider-tyred gravel bikes for cycle touring, as they open up the possibility to use unpaved roads and paths, to get closer to nature and away from motorised traffic.
"Highland Perthshire is criss-crossed with many estate roads and forestry trails of varying quality and length."