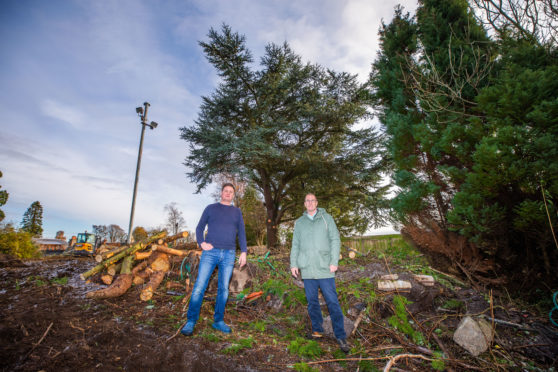 Residents in Crieff have demanded the council halt a development that would see a 150-year-old tree cut down to make way for a car park.
Developers Struan Homes are currently building four houses and 10 flats at the former bowling green on Mitchell Street with plans to fell a number of trees to make way for both the homes and car park.
Neighbours in Millar Street have launched a campaign to block the development after learning the developers plan to cut down most of the trees within the site boundary, including a 150-year-old category A cedar.
More than 40 objections were submitted to the original planning application but  residents are now claiming they did not get to see a detailed landscaping plan until after the decision to approve the development was made.
Joy Flett, whose property sits yards from the cedar tree, wants Perth and Kinross Council to halt the development
She said: "They're going to rip out a 150-year-old tree for a parking bay.
"It's just heartbreaking. It's brutal. It's not where the houses are going, it's at the boundary.
"Cars are getting priority over animals. They've taken carte blanche to rip the heart out of the property. We've got red squirrels in that back area and it has aesthetic value."
Ms Flett said she was extremely concerned about the decision making process.
She said: "The detailed landscaping plans weren't published until after the decision was made.
"The plans we were able to comment on and what we have now are quite different. All that we ask now is can we press pause because once the tree is down we can't put it back.
"We need to see if there's a better way."
Richard McWhinney, also of Millar Street, said: "The development was passed and we thought these trees were to be kept.
"It's a lot of trees."
Perth and Kinross Council was approached for comment, however it did not respond in time.
The Courier contacted project architects :thatstudio, however the Linlithgow-based firm also refused to comment or to pass on the query to Struan Homes, which is listed at an Edinburgh address.