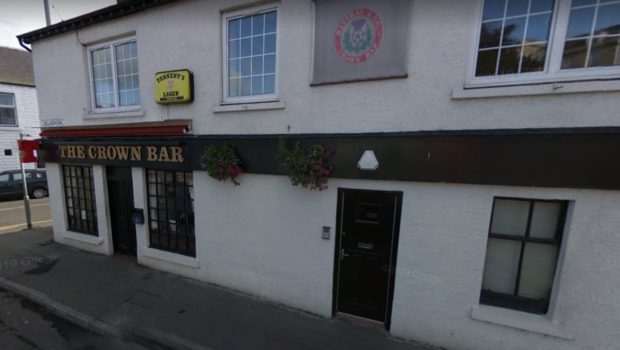 A "scene like something from a Wild West saloon" unfolded after a bar brawl was started by a Blairgowrie man celebrating his son's birthday.
William Jeffrey hit two women in the face with a chair before the fight spilled out onto the street.
Perth Sheriff Court heard the fight had started after Jeffrey had tried to get the attention of another pub-goer.
Depute fiscal Lisa Marshall said: "It was a Saturday evening and the accused was in the premises drinking alcohol.
"Just after 11pm the accused was repeatedly touching the arm of Mr Whittock, asking him to purchase alcohol for him. When this was refused and Mr Whittock pulled his arm away he was punched by the accused.
"A disturbance followed involving Mr Whittock, the accused and the accused's son. A number of people in the pub became involved trying to separate them.
"The police were contacted but the disturbance continued and moved from the bar, along the corridor and into the gent's toilets where Mr Whittock separated himself from the accused.
"Mr Whittock left the bar at this time but the accused became agitated again and picked up a table, spilling drinks and breaking glasses.
"He then picked up a chair and swung it over his shoulder where it struck Miss Hunter and Miss Bloor in the face.
"The disturbance then moved out of the pub and into the road. Police attended and the accused was placed in the back of a van."
Solicitor Mike Tavendale, defending, said: "Earlier that day he had been at home for his son's birthday and had two or three beers. He was persuaded to go out with his sons.
"He suspects that his drink may have been spiked as his behaviour was certainly out of character."
Mr Tavendale added that Jeffrey felt Mr Whittock's response to him touching his arm was aggressive.
Fining him £1,300 and banning him from the Crown Bar for two years, Sheriff Lindsay Foulis told him: "It's always a matter of regret that someone in their 50s with an unblemished record comes before the court.
"This was a scene that resembles something out of a Wild West saloon."
Jeffrey, of Manor Gardens,  admitted behaving in a threatening and abusive manner at the Crown Bar, Blairgowrie on July 13. He started a number of fights, acted in an aggressive manner, struggled with members of the public before picking up the chair and striking the two women.
He further admitted assaulting Andrew Whittock by punching him on the head.