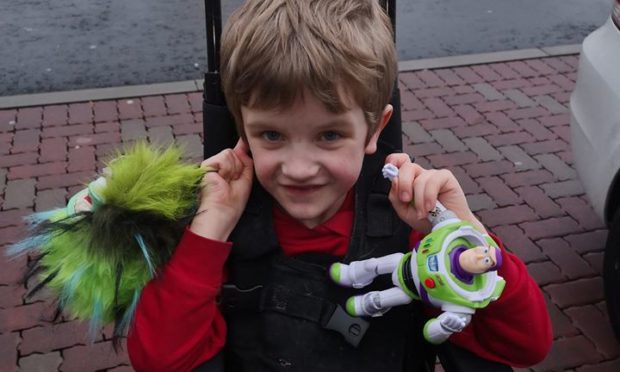 Police are hunting heartless thieves who stole a little boy's wheelchair and took it for a joyride.
Young Kade Logan has been left stranded after his specially-adapted chair was snatched from his home in Invergowrie.
Broken-hearted mum Kassi-Lee said the brand new chair had been a "lifeline" for the seven-year-old, who is severely autistic.
"I just find it devastating that someone could steal a little boy's wheelchair," she said. "I don't think they understand the impact this has had on Kade. He needs it to go into the outside world, otherwise he's just stuck at home.
"He had to miss out on Dundee's Christmas lights on Friday."
She said: "I don't know what has happened to it, but I suspect it was taken by kids for a joyride.
"It was left at the bottom of the close, beside two bikes – a BMX and a mountain bike. I think if there was someone looking for something valuable, they would have taken one of the bikes, not the wheelchair."
She said: "The community has been very kind and we've had plenty of offers for chairs.
"But Kade's chair is specially adapted for him. He is severely autistic and the chair has a harness designed to keep pressure wrapped around him.
"Kade is non-verbal and for him to be able to go places, he needs to feel safe. He wouldn't be able to use just a normal wheelchair."
Kassi-Lee hopes to get a replacement chair for Kade before his birthday on Wednesday.
"People have been so nice. I went out looking for the chair on Friday night, and I was bumping into other people – people I didn't even know – who had seen a post about it on Facebook and were out searching too.
"And I had a lovely message to say that Kade had been invited to take part in Invergowrie's Christmas Lights party.
"He will get to go on the big red bus and meet Santa, he will absolutely love being part of that."
Kassi-Lee said: "So far, he doesn't know what has happened.
"He does get stressed if he gets cooped up or stuck inside for too long. But at the moment, we don't have any other option."
She has urged the thieves to return the chair "no questions asked".
Police Scotland has urged anyone with information to call 101.