VIDEO: Residents evacuated from homes as abandoned Perth hotel caves in
Residents were forced to flee their homes after one of Perth's oldest hotels collapsed in on itself.
The abandoned White Horse Inn has been in a precarious state since a major blaze left it open to the elements in 2013.
The North William Street property, which dates back to the mid-19th Century, became an unlikely tourist attraction, with visitors stopping to take snaps of its visibly sloping upper floor.
Now those rooms on the northern side of the property have finally caved in, after more than a year of calls for action from residents.
Perth and Kinross Council has declared the building dangerous, fenced it off and given its owner six months to make it safe.
Neighbouring flats have meantime been evacuated. Residents say they have no idea when they will be able to move back in.
One local said: "People have been asking for something to be done about this building for years, and I'm glad to see some action is being taken.
"But we don't know what is going to happen next. All the parking spaces around the hotel have been closed off, because its not a safe place to leave your car.
"That's a real inconvenience for residents and businesses, and nobody will tell us how long is going to be like this."
Confirmation that dangerous building notices have been served emerged in a new document lodged with the council by John Frullani Architect.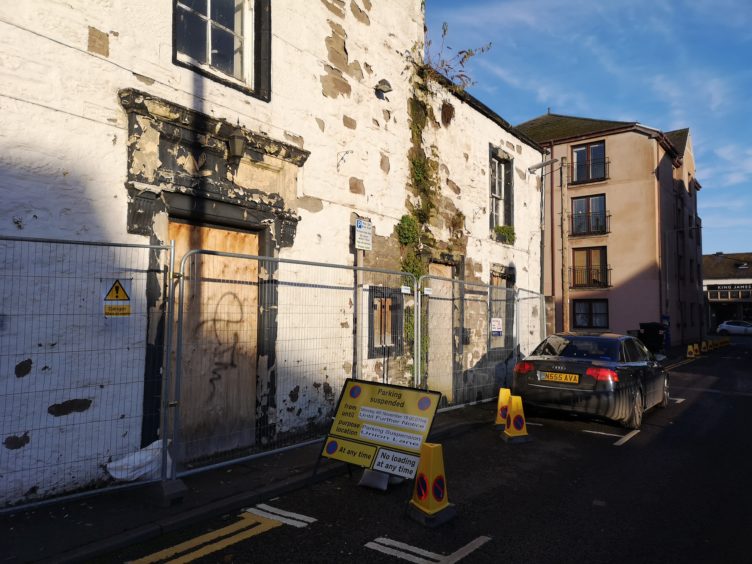 It comes after plans were recently submitted to demolish the building and build 12 flats on the site.
A spokesman for the Dundee-based firm wrote: "The existing building no longer contributes to the character of the Perth central conservation area, and due to its poor condition no longer merits retention."
Perth city centre councillor Andrew Parrott welcomed action to secure the building.
"I'm delighted to see that the site has finally been fenced off," he said. "People have long since been complaining about this eyesore and it's about time something was done about it."
Lynda Wilson, who runs the Elegance hat shop nearby, welcomed moves to secure the building. "We now want to know how long its going to be left in this state, and what happens next," she said.
The owner of the property is listed on the Dangerous Building Notice as local firm Perthshire Glazing Company. Managing director Derek Petterson did not respond to requests for comment on Monday.
A Perth and Kinross Council spokeswoman said a Dangerous Building Notice (DBN) was served on the hotel and the neighbouring flats.
"Due to the potential for further failure to the property and in the interest of the personal safety of the residents of the flats, a Notice To Remove From a Building was also served, which required that occupants vacated from the premises until it was safe to return.
"Council officers were available to help the residents of these privately owned/rented flats, should have any difficulty in finding alternative accommodation."
She added: "The DBN notified the building owners of the requirement to make the structure safe, and their responsibility to ensure required works were carried out.
"As this was not completed within the timescale set out in the notice, it was deemed necessary to intervene, and a structural engineer was appointed by Perth and Kinross Council to carry out a structural survey.
"This saw areas of particular concern noted and closures of the footpath and road have been implemented to protect the public who may use these areas."
The spokeswoman said: "The written findings of this survey were cascaded to the owners for action on November 15, and it is hoped the necessary actions are undertaken.
"We will re-assess the notices once comment has been made by the individual owners on how they wish to proceed."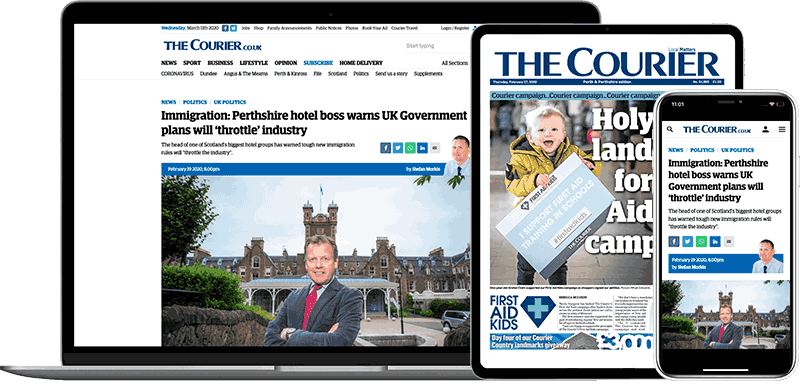 Help support quality local journalism … become a digital subscriber to The Courier
For as little as £5.99 a month you can access all of our content, including Premium articles.
Subscribe