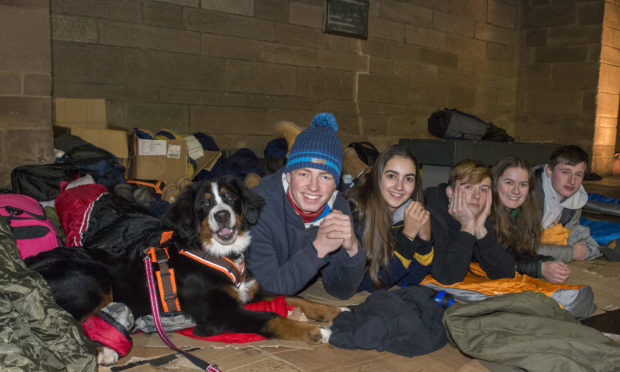 Scores of hardy fundraisers shrugged off sub-zero temperatures in Perth last night to collect thousands of pounds for the homeless.
The fourth annual sleep-out event went ahead outside St John's Kirk in the city centre as Tayside continued to shiver through an extended early winter cold snap.
It was organised by Churches Action for The Homeless (CATH) to raise money to support rough sleepers and to encourage people to consider the kind of conditions they face in reality.
Participants wrapped themselves in sleeping bags, thick jumpers and thermals as they hunkered down for a night under the stars just after 7pm.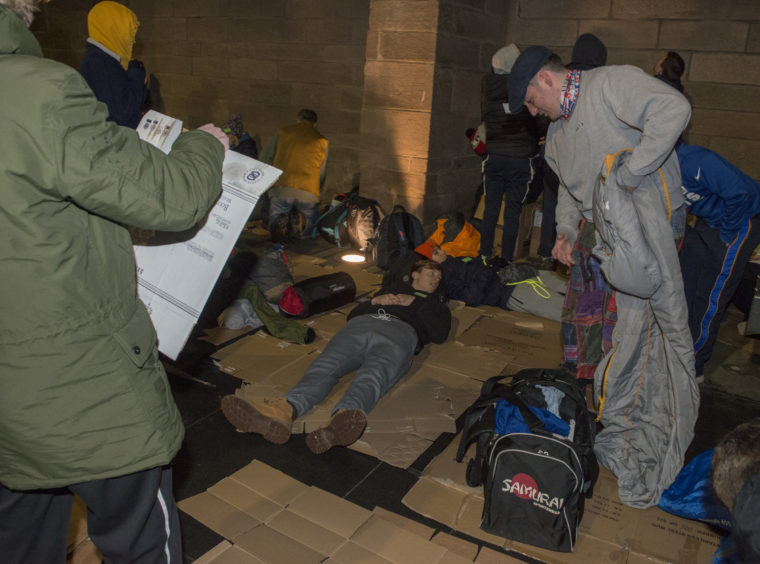 The fundraisers had also been given a rough sleepers survival guide by the Christian charity, which encouraged them to have a hot meal rich in carbohydrates, proteins and fats.
Last year, the charity raised more than £14,000 after more than 70 people took part in the event.
CATH was launched during the severe winter of 1991 when a number of churchgoers became concerned about the plight of rough sleepers in Perth.
It started with a soup kitchen run by volunteers in St Mathews Church and subsequently in a number of different locations. A day centre opened in Ladeside in 1995, followed by hostel accommodation in 1998.
Since 2002 the charity has run a 16-bed hostel in York Place Perth, which offers support and signposting to other agencies in addition to a safe place to stay. It also has an outreach team, development workers who travel throughout Perth and Kinross to support people in their tenancies, and a befriending service.
It also raises funds through its charity shop in Perth's High Street and works in partnership with organisations such as Scottish Churches Housing Action, Criminal Justice Authority, Tayside Council on Alcohol, Perth and Kinross Council and Starter Packs Perth.
Graham Taylor, the charity's head of services, said the sleep-out had become an important occasion on the CATH calendar.
"It's become an annual event for us and it brings a lot of organisations together," he said.
"It's great that people are willing to brace the freezing cold temperatures, and it's a good way for people to dip their toes into what it is like to be homeless in Scotland at this time of year."
Comment by Ross Gardiner
Cath's sleep out is a fantastic money-maker for a charity which carries out crucial work across Perthshire, but the event raises more than just cash.
While sleeping in the streets in November is a test of both mettle and fettle, the somewhat sanitised experience was a sobering eye-opener, exposing the harsh reality of what it's like to suddenly lose your permanent residence.
I arrived at St John's Kirk with a thermal sleeping bag and winter gear, safe in the knowledge that I'd be in my own bed by 6.15am.
That was thanks to the weeks of preparation I was granted.
The reality is becoming homeless is not something that anyone anticipates and the ensuing whirlwind conventionally comes without the marshalling, camaraderie or cascade of hot coffee I had last night.
Like the rest of the participants, I was confident I'd survive the night, but at least 139 homeless people tragically died in Scotland over the past two winters.
The work Cath conducts is vital if we plan to slash this harrowing figure and events like last night's sleep go a long way towards improving life for the most vulnerable among us.
But while the event was arduous for participants, it was merely a short-lived scratch on the surface of life without a home.