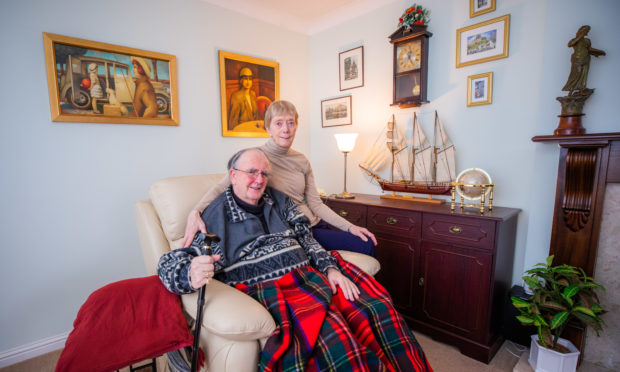 A Tayside author and public speaker has thanked everyone who came to his aid after he
Roger Cartwright, 71, was on a flight to Miami with his wife June when he suddenly fell ill.
A nurse on board realised what was happening and told the captain who made an emergency landing in Ireland.
Roger, who has written a number of books and spent nearly two decades working as a speaker on cruise ships regaling travellers with tales about maritime adventurers, was raced to hospital in Limerick.
He spent several days being nursed back to fitness, before being flown back to Scotland and is now recuperating at home in Crieff.
The former Reserve Naval Officer said he had been feeling unwell when he boarded the flight at Heathrow but hadn't wanted to bother the cabin crew.
"I was on my way to a week's holiday with my wife June. I wasn't working for a change," he said.
"As we went out over the Irish coast, I didn't feel too good.
"My left hand went, then my leg, and suddenly I couldn't speak. Luckily, there was an American nurse on-board who told me I had had a mini stroke, which I came out of and I think I had another.
"She told the captain, who made the decision to land in Shannon, Ireland. I feel terrible for the inconvenience I've caused all the other passengers heading for their holidays."
An ambulance was waiting to take Roger to University Hospital in Limerick straight away.
He said the treatment he received was brilliant.
"It was like I was a local, and the other patients in the ward even let me watch the England game," he said.
Roger was flown home at the end of last week and says the short Aer Lingus flight back to Scotland will be his last trip in the air for a while.
He said the support he received had restored his faith in human kindness and he was grateful to everyone who stepped in.
He said: "I received fantastic treatment at the hospital in Limerick, but I won't be going back to sea or on any long distance flights any time soon. It was a frightening experience.
"If you feel unwell, you really need to say to someone straight away. Most people are much nicer than you'd expect them to be.
"The messages of support from his colleagues and fans across the world have been most gratefully received and have really got me through it."