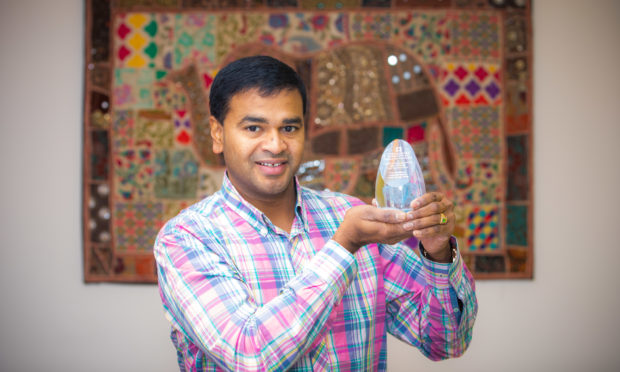 Perth's Food and Drink Park looks set to finally take off as a gastronomic money-maker after a Fair City businessman announced plans to take on another 50 people at his newly opened ready meal factory.
Tabla restaurant owner Praveen Kumar launched his self-titled frozen food business at the multi-million pound Arran Road site last month.
Praveen, who also runs the Indian Cook School, was awarded the Most Promising New Business prize for the ready meal enterprise at the Perthshire Chamber of Commerce Awards on Friday.
He already employs 11 people at the plant, in addition to the staff in the restaurant business.
Praveen said: ""At the moment, across the whole group we have 40 staff. By the end of 2021, we'll need at least 75 staff and we're looking at at least 50 more at Arran Road.
"Ready made meals will be the biggest employer within the group. Our dream is to stock frozen meals in every farm shop in the UK and every good garden centre."
He said the business was producing 2,500 ready made meals a week at present and had taken on a second unit at the food and drink park.
We do a lot of mail order around the UK, from Devon to Dunkeld," he added.
"We have around 30 different items on the menu for next day delivery but we're planning to expand into non-Indian food. Just now, it's the same food that's on the menu in Tabla.
"We started in April, but for three or four years we've been building towards it. At the moment we have 11 working there but we're looking for more, all at Arran Road. It's good for our suppliers.
"We've been working with Bell and Duke from Arran Road too and without their knowledge and expertise on frozen food, we wouldn't be where we are."
There were concerns for the food and drink park earlier this year when Perth and Kinross Council announced it would be opening doors at the £1.8 million business estate in North Muirton to other industries.
The site had been hailed as the first business park dedicated to the Scottish food and drink sector.
Council bosses said 12 of the available 24 acres would still be available for food and drink use.