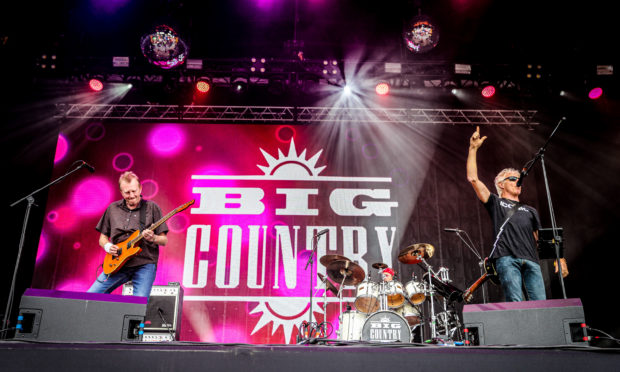 Big Country, Skids frontman Richard Jobson and the Red Hot Chilli Pipers will lead the line-up for Perth's annual St Andrew's Day festival.
The programme, part of the wider Perth Winter Festival, will kick off on Saturday with most of the live music taking place on the Sunday.
The activities will tie in with Fair Saturday, a worldwide non-profit event that celebrates art and culture as "powerful forces for good".
An array of local musicians are also preparing to wow the crowds.
Entertainment on the Main Stage, located in the Horizon Car Park beside Marks and Spencer on Mill Street, will kick off just after noon on Sunday with a performance from local folk stars and Twa Tams landlords the Mad Ferret Band.
The duo will be followed by Dunfermline-born Americana singer-songwriter Stevie Agnew before 1980s icons Big Country take to the stage.
The Dunfermline-based rockers are returning to the fair city after a stellar performance at Rewind earlier this year.
They will be followed by Skids frontman Richard Jobson, another Scone Palace crowd-pleaser this summer, who is coming back for a solo slot this time.
The punk rock star, who has been touring for more than 40 years, will be followed by Alva musician and Kirkcaldy firefighter Stevie McCrorie, who won the fourth series of The Voice UK in 2015.
The final act of the afternoon will be the Red Hot Chilli Pipers, who will team up with Perth Pipe Bands and Vale of Atholl Pipe Band for a grand finale.
In between acts, spectators will be able to browse the Spirit of Scotland market at Horsecross Plaza, where stalls will be selling gifts created by some of the country's leading independent craftspeople.
The market will also run on St Andrew's Day itself on the Saturday, and a string of up and coming musicians including Jen Ella, Kate Harris and Michael Law will be performing throughout the afternoon.
A Perth and Kinross Council spokesperson said: "Over the weekend, Perth city centre will be celebrating the festive season and St Andrew's Day with a range of exciting events.
"The Spirit of Scotland market will showcase the best of Scotland's food and drink with musical accompaniment from Clanandonia.
"Mad Ferret, Stevie Agnew, The Voice UK winner Stevie McCrorie, the Red Hot Chili Pipers, Big Country and Richard Jobson and the Skids will bring a truly Scottish flavour to the St Andrew's Day celebrations."
Stage times for Sunday:
12.00 – Opening by compere Colin Baird
12.05 – 12.45 – The Mad Ferret Band
12.50 – 13.35 – Stevie Agnew
13.45 – 14.35 – Big Country
14.35 – 15.00 – Richard Jobson: The Skids
15.05 – 15.45 – Stevie McCrorie
15.50 – 16.55 – Red Hot Chilli Pipers
16.55 – 16.55 – Perth Pipe Band and Vale of Atholl
Pipe Band arrive with the Provost of Perth
16.55 – 17.00 – The St Andrew's Day message by the Provost of Perth
17.00 – 17.10 – Perth Pipe Bands and Vale of Atholl Pipe Band Finale with Red Hot Chilli Pipers.