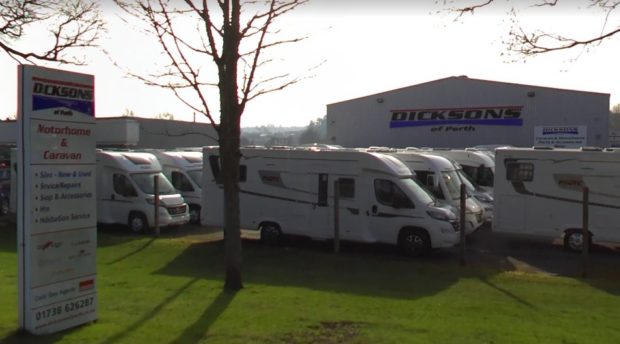 The director of a Perth motorhome dealership who kicked his dog when it wandered onto one of the city's busiest roads was caught after footage of the incident was put online.
The shocking attack was caught on dash cam by a motorist and Christopher Dickson was traced after the recording provoked outrage on social media.
Dickson's solicitor said the 32-year-old had been carrying out "swift justice" on the black Labrador and had kicked it because he was unable to hit it.
He was told by a sheriff that this was "a dog-loving nation" and the attack had caused revulsion.
Depute fiscal Michael Sweeney told Perth Sheriff Court the incident happened on Dunkeld Road around 4.30pm on September 14.
The driver who recorded the kicking was in a queue of traffic when she saw Dickson crossing the road.
"The dog walked into oncoming traffic then back to the accused," said Mr Sweeney.
"The accused was seen to kick the dog on the underside. The dog fell to the ground before getting back up.
"An individual from another vehicle began to shout at the accused after seeing this incident and was gesticulated at.
"This was an incident that was shared on social media and there was a particular outcry in relation to it. The accused was traced on September 25."
Dickson's solicitor Paul Ralph said his client had been walking his dog when it strayed from his side.
He said: "The problem was the dog was not on the lead. The dog walked on the road.
"He administered swift justice, which he would normally have done with a clip round the ear but he'd had an operation to his hand.
"The dog is  six and a half years old and still lives with him."
Dickson, of Balhousie Street, Perth, admitted behaving in a threatening and abusive manner by gesticulating at a member of the public and kicking a dog on Perth's Dunkeld Road on September 14 2019.
A plea of not guilty to causing the dog unnecessary suffering was accepted by the Crown. People who are found guilty of this offence can potentially be banned from keeping animals.
Sheriff Richard McFarlane fined Dickson £240, telling him: "This was a case where social media does a lot of the work for police.
"This is a dog-loving nation and this incident generated revulsion. It could have been avoided if the dog had been on the lead."