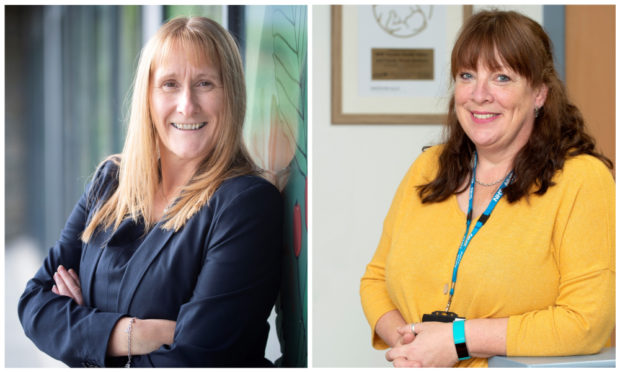 Two Tayside medical workers have been awarded the title of Queen's Nurse.
Health visitor, Keri Hollis from Abroath and Mental Health Nurse, Lindsey Griffin from Perth were among 20 people to have received the accolade.
Both nurses were selected earlier this year to take part in a nine-month long development programme run by the Queen's Nursing Institute Scotland (QNIS).
They were both nominated by their employers for the title for providing high quality and compassionate care to people in their communities.
Having successfully completed the programme, Keri and Lindsey were awarded the historic Queen's Nurse title alongside 18 other community nurses at a ceremony in Edinburgh.
Speaking about her award, Keri said: "I am honoured to become a Queen's Nurse and hope to use the title as well as the knowledge and skills gained throughout the programme to further develop the service and promote the excellent care within our community.
"I am passionate about the difference health visitors can make to young children and their families to enable and support them to achieve their full potential."
Lindsey echoed her fellow nurse's passion for her role in helping people.
She said: "I have a genuine interest in people and how they experience their world, I think that's what I love about my role.
"Working within the community, you are in such a privileged position of being invited into a person's life, to see life how they see it.
"Collectively we need to challenge the silence, the injustice and the stigma around mental ill health and place the same value on mental health as we do on physical health."
The QNIS programme consists of a week-long residential workshop followed by two further workshops and coaching sessions in between.
Each nurse selects an issue for development which will have a significant impact on those they care for, so that the learning during the nine months is applied in practice.
NHS Tayside interim director, Sarah Dickie said: "I wish to congratulate Keri and Lindsey on their Queen's Nurse achievement.
"This is a great honour so well done to them both.
"NHS Tayside is proud to support all of our Queen's Nurses."