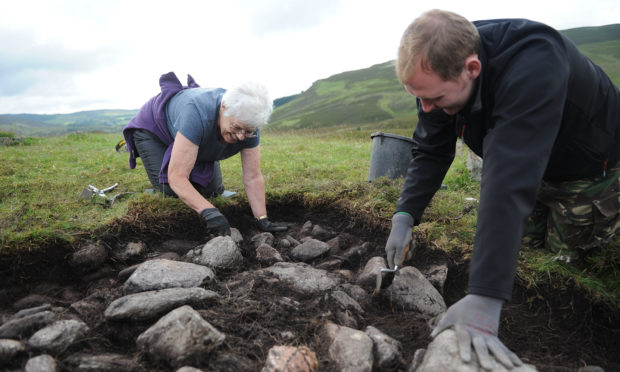 Archaeologists delving into Perthshire's hidden history are celebrating a successful five-year investigation at an ancient Pictish settlement.
Perth and Kinross Heritage Trust (PKHT) launched the project at Lair, near Glenshee, in 2012. Over the years, a series of digs have exposed how local people lived more than a thousand years ago.
The work focused on land around a Viking-age longhouse, an exceptionally rare structure in Scotland.
The buildings are often overlooked in favour of the grandeur of hillforts, the Picts' defensive structures which are still evidence in places like Moncrieffe Hill, near Perth.
Among the most notable discoveries during the Glenshee excavation was a rare object known as a spindle whorl, a small circular stone with a central hole that is thought to have been used for hand-spinning textiles.
Now the research has been compiled for the first time in the trust's latest publication, Early Medieval Settlement in Upland Perthshire.
The book was launched at the PKHT's new base in Lower City Mills, with endorsement from Professor Barbara Crawford, chairwoman of a key funder, the Strathmartine Trust.
PKHT director and lead author David Strachan said: "The project was developed in 2011 to target the medieval turf buildings that survive in north-east Perthshire.
"These buildings are a rare and important part of Perth and Kinross's archaeological story but other than the excavations at Pitcarmick by the University of Glasgow, there has been little previous archaeological work carried out on them.
"The Glenshee Archaeological Project has successfully added considerable depth to our understanding of these Pictish houses and the people who built and lived in them."
Trust chairwoman Sue Hendry added: "The project is a great example of what can be achieved through citizen science. This community archaeology project has not only engaged with life-long learning volunteers from the local area, but also with local primary and secondary school pupils and unversity students from across Scotland.
"Together, they have contributed 900 days and 6,000 volunteer hours to make the project happen and this new publication is a testimony to all of their hard work."