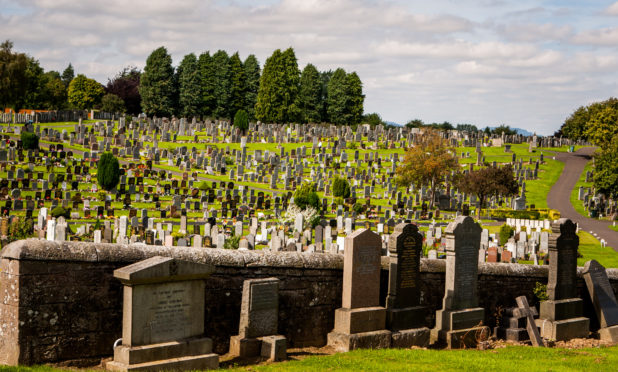 Safety inspections are to be carried out at cemeteries across Perth and Kinross.
Headstones in Blair Atholl and Jeanfield, Perth, will be tested in the new year to check they pose no risk to the public, particularly the older structures.
They will be followed later by inspections at cemeteries in Auchterarder, Blairgowrie, Dunkeld, Dunning, Meigle and Muthill.
Perth and Kinross Council has apologised in advance for any upset during the inspections.
A spokeswoman said: "The council appreciates that any works within cemeteries to make headstones safe may be upsetting to some people, and would wish to apologise in advance if this is the case.
"All checks will be carried out by qualified professional officers, who will ensure these are done with the utmost respect."
All inspections will be recorded, and any headstones that fail the test and are deemed to be unsafe will be laid flat or fenced off. The lair's owner will then be notified.
The council spokeswoman added: "Should it not be possible to trace the owner, the headstone will be made safe again by digging it partially into the ground to ensure it is not damaged or causes further hazard to users and visitors to the cemetery."
She stressed that any work will be carried out "professionally and respectfully".
Earlier this year, dozens of dilapidated stones were sealed off at Greyfriars in Perth, one of Scotland's oldest graveyards.
Some of the monuments were deemed at risk of collapse, with three branded "dangerous".
The majority of stones in need of repair were described by surveyors as "rocking", while a large proportion of headstones have an overhead artefact that needs securing.
The council recently secured permission to remove and repair them.
Ahead of the safety inspection, which gets underway on January 6, lair owners are being urged to contact the council's bereavement services and flag up any change in ownership or address.
All cemeteries will be tested in line with the Scottish Government's guidance on memorial safety.