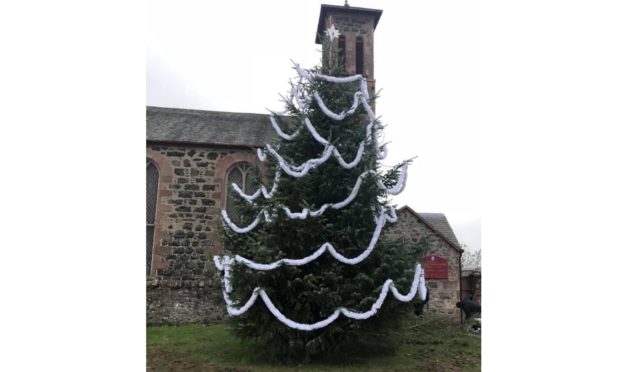 Fed-up volunteers in an east Perthshire town threatened to pull the plug on this year's seasonal display, after a spate of Grinch-like comments on social media.
Rattray residents were warned they would have to go without their Christmas tree, because of "disheartening" complaints about the state of last year's festive fir.
Scott Macgregor, who helps organise the town's tree, said there had been grumbles that it had been "decorated haphazardly" and looked like it had been thrown together by local drunks.
Despite a warning on social media, Mr Macgregor confirmed on Monday steps were being taken to arrange for a new tree. It should be in place before the end of the week.
Mr Macgregor said: "Every year we put a tree up, all we receive are bad comments no matter how well or not so well the tree is decorated.
"This year, we received a letter of complaint saying that the tree was decorated haphazardly.
"I then had a meeting and was told that it looked as if drunks had come out from the Old Cross and had thrown decorations onto the tree. That was the final nail in the coffin."
Mr Macgregor said: "We get no contributions from the council for any of our lights, trees or anything to do with Christmas.
"They are all put up, maintained, repaired and bought by volunteers who give up their own time and effort, on what is usually a very cold, wet morning.
"They don't volunteer for themselves, rather for the local community spirit."
He said: "When all we receive are constant complaints, it becomes disheartening and that's when the illuminations committee questions what the community wants."
A new tree has now been arranged by Conservative councillor Bob Brawn and will be transported to the Cross, beside the town's parish church, later this week.
Mr Macgregor appealed for any volunteers to get in touch via the Blairgowrie and Rattray Christmas Lights' Facebook page.
"We had decided not to put the tree up this year to allow time for better decorations to be bought for next year and further gauge public opinion," he said. "But we now hope to have it in place in the next few days.
"We will put a post on social media as soon as we know when and hopefully we will get some more volunteers out to help.
The row comes days after questions were raised about the tree in Monifieth, which locals claimed looked suspiciously like the one that had been dumped unceremoniously by Dundee City Council a few days earlier.
The tree in Dundee was replaced within hours of its arrival, after social media users complained about its discoloured and withered state.