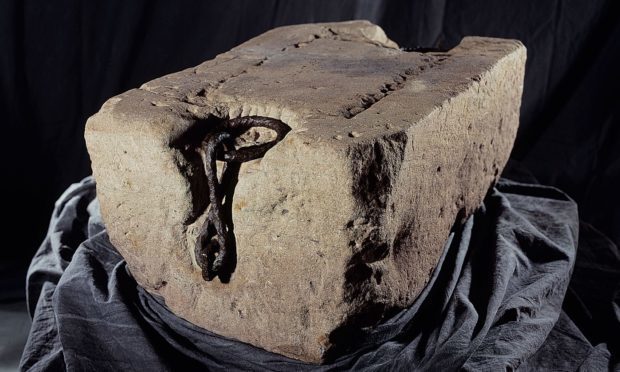 Battle lines have been drawn in a row over a little-known castle that played a key role in the Stone of Destiny story.
The Scottish Government has been asked to intervene after Historic Environment Scotland (HES) said it wants to remove Auchterarder Castle from its official schedule of monuments, as it is no longer deemed of "national importance".
The remains of the castle sit on private land on the edge of town, at Castlemains Farm Steading. Stones from the once-impressive landmark were used to build the farm in the 18th century.
The castle was where Edward I stationed his troops when he journeyed north to steal the Stone of Destiny from Scone in 1296.
Although HES wants to take the castle off its formal list of historic monuments, it is considering giving it and the surrounding farm, C-listed status which would give it a layer of protection from future development.
Muir Homes, which wants to build new houses on the site, has lodged a formal appeal against part of HES's plan which involves granting listed status to the old farmhouse, which sits near the castle.
Last year, a plan to demolish the house and create 12 new homes, while retaining the castle ruin, was rejected.
Agents for the firm have written to Scottish Ministers, asking them to rethink plans to grant C-listed status to the now-derelict house.
A spokeswoman said the decision to reject the previous proposal was a missed opportunity to "create a genuine courtyard development whereby the structure (castle) could be given more breathing space as a central element in the scheme."
She said: "Were the castle to retain a reasonable amount of green space around it and justify a central park for the new housing, this could arguably produce a better arrangement for the structure than it currently has."
She told ministers: "The castle is probably only present because the builders of the farm could not remove the last of the stones, and so it was left there, oddly positioned and uncomfortable.
"The historic interest of the evolution of the site cannot be argued. However, maintaining one building of the farm grouping is not going to retain this."
Muir Homes argues that the house is not of any "intrinsic value and would not be listed on it's own right" and its retention would not protect the value of the castle, but would "prevent a properly designed new scheme to benefit the castle".
The Scottish Government's planning and environmental appeals division has been asked to consider the appeal. It is expected to publish its findings in February.