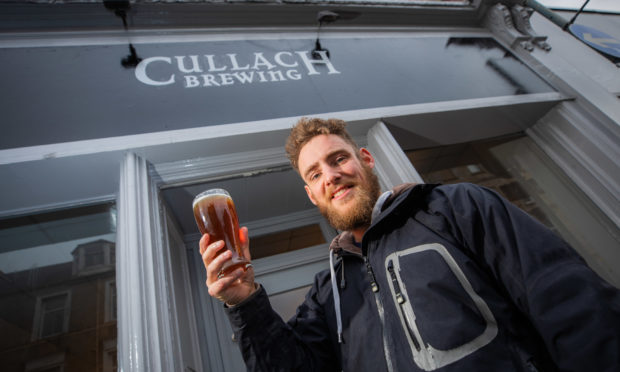 Beer lovers can raise a glass to Perth city centre's first micro-brewery when it opens its doors this weekend.
Cullach Brewing will pour its first pint at its new tap house on Princes Street at 2pm on Saturday as the newest addition to the Fair City's emerging craft beer scene.
Will Bond, owner of Cullach Brewing, believes the timing is perfect for cracking open the first micro-brewery and tap room in the city centre.
He said: "We've go the Craft Beer Bottle Shop which opened in the last two years and Brew Dog so craft beer in Perth seems to be emerging.
"But if you had turned up here two years ago you would wonder where the scene was.
"I love Perth as a city which is why we moved here. It's good that the scene is emerging now. Brew Dog is packed every single week."
Will began his business in June, leaving the army after a five year stint with the Highlanders and keen to be self-employed.
Originally from Aberdeenshire but now living in Muirton, Will set up his first brewery in Friarton after perfecting his craft for over 13 years on a home-brewing scale.
He said: "I wanted to open a tap room.
"I get a lot of enjoyment from serving the public directly and get that direct feedback on the beers.
"We can start to build a community of people that come in here. I wasn't particularly looking at the city centre but then this place became available."
Will has big plans for the micro-brewery and hopes to have local street vendors in to sell food, as well as live music and screens for sport on an ad-hoc basis.
"I don't want it to be a sports bar," he said.
As well as selling six Cullach beers on draft the business will also focus on local and Scottish produce, with two guest taps and their soft drinks coming from Summerhouse in Aberdeenshire and Alba Cola.
Will said: "Where I can I will try support a Scottish or local business.
"It's great for Perth to support local and put money back into the economy."