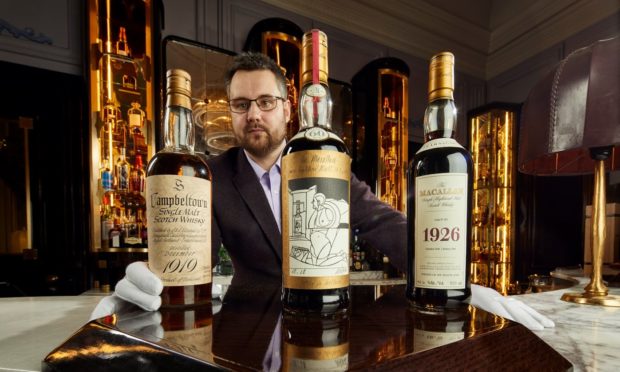 A record-breaking whisky collection that goes under the hammer next year has been unveiled in Perthshire.
Nearly 4,000 bottles of mainly single malt Scotch, including some of the world's most coveted whiskies individually valued at more than £1 million, will be sold online by the Perth-based Whisky Auctioneer.
The so-called "perfect collection" – the biggest of its kind ever to go to auction – was built and nurtured by the late Richard Gooding, a private collector from Colorado.
Mr Gooding was the former owner and president of the Pepsi Bottling Co. of Denver, one of the largest soft-drink distributors in the US. He spent decades travelling to and from Scotland in search of rare bottles at auctions and distilleries.
Until recently, the bottles were housed at Mr Gooding's pub, a dedicated room in his Colorado family home that was specially designed to showcase his collection.
In what is a major coup for the Whisky Auctioneer – and part of a growing trend of democratisation of whisky sales from traditional auction houses to online – each bottle will go on sale over two separate auctions.
Mr Gooding's widow Nancy said: "It was clear to us as a family that collecting Scotch was one of Richard's greatest passions – an endeavour that spanned over two decades.
"He loved every aspect of it, from researching the many single malt distilleries to visiting them and tasting their whiskies."
She said: "He was always so pleased to acquire the bottles that he was searching for over the years. His mission was to collect a bottle that represented every distillery, but his favourite was always Bowmore.
"Richard truly loved and was proud of his collection and enjoyed sharing it with friends and fellow Scotch lovers in his pub at home."
Richard died in 2014 after an 11 year battle with melanoma.
Iain McClune, founder of Whisky Auctioneer, said: "The Perfect Collection by Mr Gooding is truly one of a kind and a testament to his dedication to collecting Scotch whisky.
"Its sheer scale and rarity makes it one of the most exciting discoveries in the whisky world, and we're thrilled to unveil it to the public ahead of it going live on our online auction next year."
He said: "The library of whiskies is filled with very special bottles, each of which has been researched and meticulously examined for condition and authenticity."
Among the 3,900 bottles is the largest collection of The Macallan ever to go to auction.
The sale goes live from February 7-17 and April 10-20.