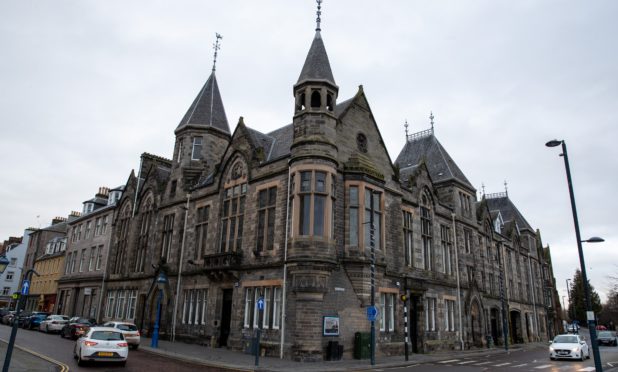 A landmark building in Perth city centre could be transformed into a luxury hotel.
The former council chambers and district court, at the corner of Tay Street and High Street, is being eyed up by developers who want to turn it into a boutique establishment.
Owner Perth and Kinross Council is now planning to offload the turreted B-listed property, which has fallen into disrepair over the decades and costs around £140,000 a year to maintain.
It follows a concerted effort by council officers to attract a major hotel chain to the city.
Earlier this year, a delegation hosted a networking event in London to promote Perth to developers, with the aim of creating a 100 to 125-bed hotel.
Next week, councillors will be asked to asked to launch a consultation on the building's disposal.
Head of Planning and Development David Littlejohn said: "There appears to be a real prospect of a viable use for 1-5 High Street which will contribute to Perth's economic growth, secure the long-term future of a heritage building and remove the council's on-going maintenance cost."
The building, which overlooks the River Tay, is part of a larger complex of council offices and dates back to 1879.
Part of the property facing Tay Street was sold in the 1980s for flats and the remainder was used by council services until 2011, when the district court was moved to the sheriff court building and the council's Economic Development Service went to Pullar House.
Now only the ground-floor remains in use as the city's registrar of births, deaths and marriages.
In a report to the Perth Common Good Fund committee, Mr Littlejohn said: "A number of parties have already expressed an interest in acquiring the property.
"Given the scale of investment required to repair and convert the property, it is unlikely disposal will generate a receipt to the council but it would remove maintenance liability."
He added: "Market evidence prepared by the council's advisers and promotional work undertaken by the council's Enterprise and Investment Team suggests there is demand for additional quality hotel accommodation in the city.
"However, this demand and the appetite of developers to address it can only be quantified following completion of marketing."
Councillors will be asked on Wednesday to support a move to market the building and consulted on its future. The results will be brought back to a future meeting where they will consider its disposal either by sale or long lease.