PERTH AND NORTH PERTHSHIRE: Pete Wishart 'absolutely amazed' to hold seat with huge majority
Pete Wishart put his memories of a nail-biting 21-vote victory behind him as he increased his majority in Perth and North Perthshire to over 7,500.
Mirroring SNP results across Scotland, the longest-serving Scottish MP won his sixth election by a landslide majority.
In what was a closely fought campaign, the results of the campaign did not force the two recounts needed to split the candidates last time around.
CORRECTED: The result for #GE2019  in Perth and North Perthshire are:
Peter Barrett (Lib Dem) 3780
Angela Bretherton (Lab) 2471
Angus Forbes (Con) 19812
Stuart Powell (Brexit Party) 651
Pete Wishart (SNP) 27,362

Pete Wishart is duly elected as MP for this constituency.

— Perth & Kinross Council (@PerthandKinross) December 13, 2019
The declaration was made by returning officer Karen Reid just before 2.40am that the incumbent MP had won just over 50% of the vote share.
Just under three quarters of the constituency's electorate turned out to vote in the first winter election in decades.
Verification is now complete. Turnout in the Perth and North Perthshire constituency for #GE2019 is 74.63%.

— Perth & Kinross Council (@PerthandKinross) December 13, 2019
Celebrating his victory, Mr Wishart MP said: "I'm absolutely amazed at what is a fantastic result. We worked extremely hard to secure this.
"We took a clear message to the people of Perthshire. One was issues around Brexit which we knew there were great concerns about.
"The other was the character of the Prime Minister himself. Over the last few days, that's had a huge resonance with people.
"They're genuinely concerned about the future of a Boris Johnson government and I think we've not just seeing that here in Perth and North Perthshire but across Scotland."
Pollsters had predicted that only Conservative rival Angus Forbes would stand any chance of claiming the seat held by the SNP since its creation.
The Carse of Gowrie councillor did come second, racking up more than 19,000 votes, but the figure fell short of the incumbent MP's tally.
"Politics is a cruel sport – you're either a winner or a loser and, tonight, Pete is the winner," he said.
Speaking before the result was announced, the Conservative candidate admitted that the abuse he had been subject to during his campaign had affected him.
He said: "I'm actually quite relieved to be at this point because I'm absolutely knackered. It's been a really hard four or five weeks and I'm quite glad to get to the end.
"What I wasn't expecting was the levels of abuse I got. That was the biggest eye-opener.
"I'm genuinely shocked at the level abuse I've had every single morning. I've woken up to pretty abusive messages, 30 or 40 at a time."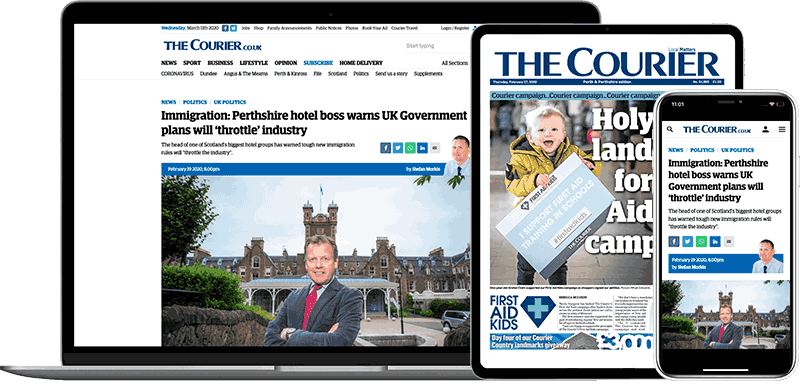 Help support quality local journalism … become a digital subscriber to The Courier
For as little as £5.99 a month you can access all of our content, including Premium articles.
Subscribe