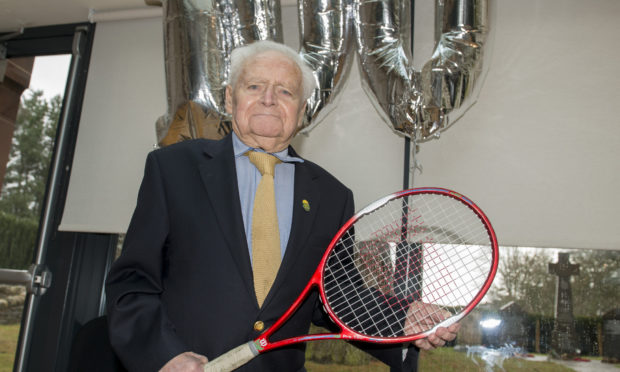 A former tennis world champion, who is almost certainly Britain's oldest skier, celebrated his 100th birthday and vowed to take to the slopes again this season.
George Stewart, who lives in Scone, was crowned winner of the over-85 World Men's Doubles Championships at the age of 87 – despite not taking up tennis until he retired at 60.
The army veteran first took the title in Christchurch, New Zealand in 2006 before defending his crown with partner Gerry Ells a year later in Turkey.
Despite his international glory, tennis is George's second love when it comes to sport.
The former Forestry Commission worker has been a skier all his adult life and was president of the Scottish National Skiing Council.
Ignoring his advancing years the centenarian continued to take to the slopes at the age of 99 and already planning his next trip.
Modest George said his ability to keep fit was all down to luck.
He said: "I just got fortunate, there's no way of saying anything else. It's nothing I've done.
"I took up tennis at about 60. I just always loved it but never had the opportunity to play. Then I started playing here with people who were all 30 years younger than me before I went abroad.
"I've skied all my adult life. That's been my main sport. I will try to ski again this season. Whether or not I can I don't know, but I will try."
Skiing runs in the Stewart family with George's son Alan representing the British team at the Olympics in 1976 and 1980.
The 100-year-old celebrated his birthday in style with not one but three parties at the weekend, two of them held at the Black Watch Museum, attended by his many friends and family.
George said: "It's been very humbling and lovely to see so many friends and family gathered together. It's wonderful."
His daughter Sally Begg told The Courier it was no surprise to the family that he had achieved so much later in life.
Sally said: "We're all quite proud of him. He's done a lot.
"It was no surprise to me that he became very good at tennis. He was also a very good bridge player and played league bridge in Perth."