Residents say they 'don't feel safe' in fire-hit Perth high-rise
Residents in a Perth block of flats say they don't feel safe in their own homes following a second basement blaze in six weeks.
One family had to be rescued from their flat in the Pomarium Street high-rise and around 30 neighbours were evacuated.
Eight appliances were needed to tackle the blaze, which started in the cellars to the rear of the block that houses flats number seven to 51, and took hold in a ground floor room used to store household bins and personal belongings.
The flames quickly whipped through the other cellars, filling the floors above with smoke.
Fire crews from Perth, Dundee, and Auchterarder spent three hours bringing the blaze under control on Sunday night while residents were put up in the Queens Hotel. The ambulance service treated one man for smoke inhalation.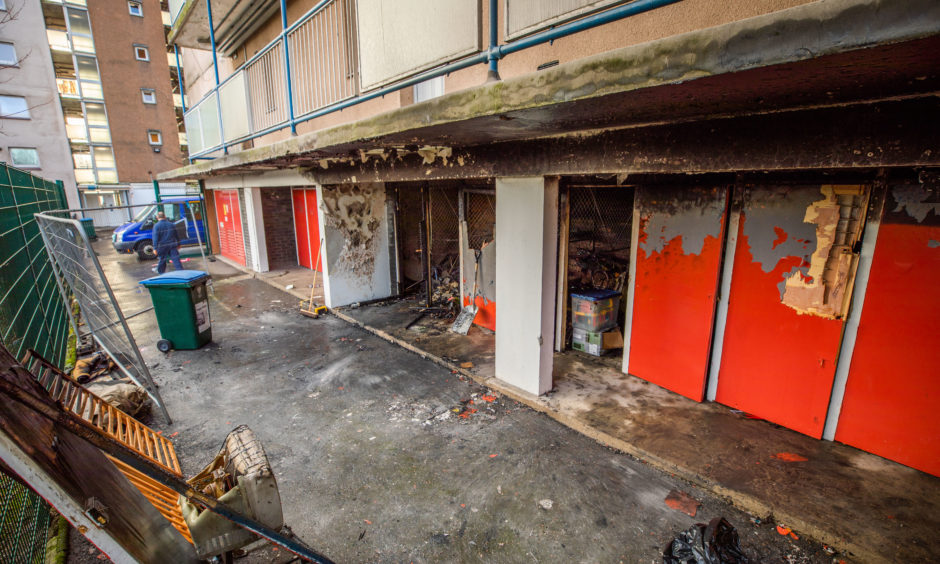 A fire service spokesperson said: "The operations control team also provided fire survival guidance to a family who were effectively trapped in their flat by the smoke. Firefighters thereafter reached the family."
Police, firefighters and Perth and Kinross Council crews returned to the block yesterday morning to clear the charred lockups.
Police said they were not treating the incident as suspicious, but residents at the neighbouring 11-storey block said a similar, smaller blaze broke out in their basement two months ago and slammed security at the site.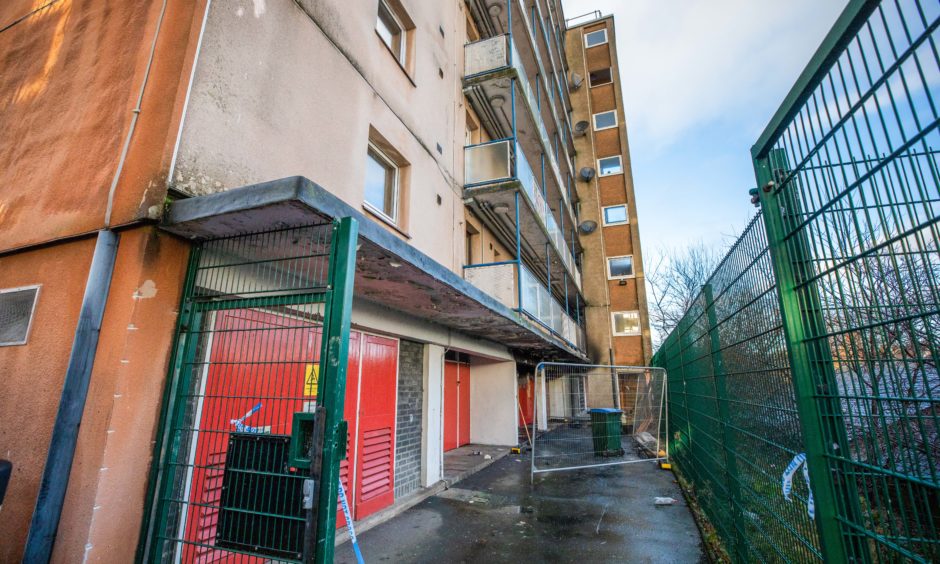 A gate to the rear of the flats, allowing access to the lockups, has now been shut with cable ties, but residents say it is regularly left unsecured.
One woman, who lost "a lifetime's worth" of items from her cellar, said: "We don't feel safe in our flat anymore. The gate at the stores can just be opened."
Family 'trapped in flat' by smoke as firefighters tackled Perth building blaze
Another woman said: "When I heard the noise, I opened my door and saw the smoke. I shut it again immediately and put on my hat and jacket.
"The gate is always standing open. It seems like too much of a coincidence that there was a fire in the other block so recently and now this.
"I've lived here for 21 years and it didn't used to be like this."
Another neighbour, who was evacuated, said: "We were outside for three hours. They had us put up for an hour at the Queen's Hotel for warmth.
"A lot of people loiter at the gate so it's like a who-done-it thing. The general consensus among the residents is it is no-good-uns who did it."
Perth and Kinross Council said it took fire safety seriously and conducted regular safety checks.