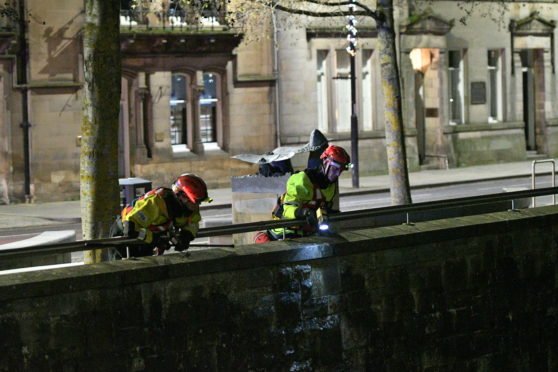 The search for a missing person in the River Tay at Perth has been stood down.
A major search and rescue operation was launched in the city centre last night after a man was heard crying for help near the River Tay.
Major emergency services operation at River Tay in Perth as search crews hunt for man heard 'shouting for help'
The Scottish Fire and Rescue Service (SFRS) water rescue unit dropped into the water yesterday evening with a search crew on board after reports of the man's cries.
Emergency services were told that the person had made the calls while near the Perth Bridge.
But an SFRS spokesperson said this morning that the 'stop' message had been made a 9.54pm on Sunday. They added: "There was no further intelligence to conclude that anyone was missing."
Rescuers' control rooms received the report just before 6pm and the bus stops and laybys along the Perth's Tay Street rapidly filled with special operations units from police, ambulance and fire and rescue services.
A search and rescue helicopter joined the operation later along with coastguard personnel.
Police are understood to have been contacted first, but the force promptly requested the assistance of Scottish Fire and Rescue Service (SFRS) teams.
An SFRS spokesperson confirmed they received the call at 6.07pm and were at Tay Street just 11 minutes later.
The service brought water rescue units from Perth and Dundee and soon cordoned off the walkway, but traffic continued to pass along the main road.
As the response crew prepared their search on the pavement opposite Perth Sheriff Court, rescuers with flashlights probed the northern beached end of Moncrieffe Island and the riverbanks on either side on foot.
A pair of inflatable watercraft coursed up and down the river between the three bridges and along Willowgate Channel, shining torches into the water.
Just before 8pm, the crews were joined by a search helicopter which flooded the river below with light, travelling from east to west.
One eyewitness said: "The yellow inflatable sled was lowered into the water and started searching along the shore. There was also a red speedboat in with people holding torches.
"There were some people on the ground wearing water rescue gear and police with search canes were also here for a while."
A police spokesperson said: "We were called to reports of concern for a person in the vicinity of Perth Bridge and the A85 at 5.45pm.
"Enquiries and a search of the area was carried out but no further action was required."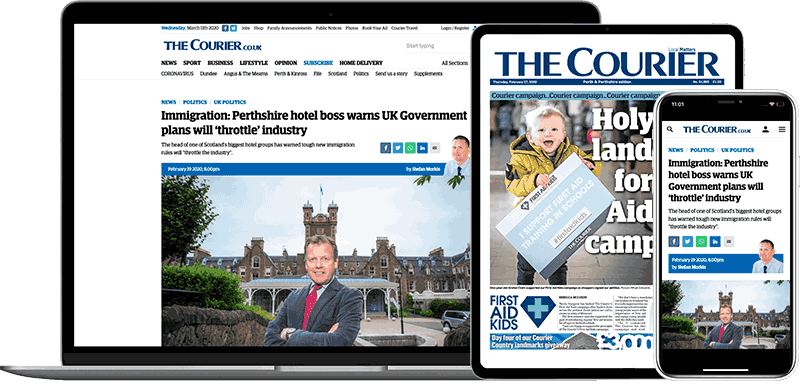 Help support quality local journalism … become a digital subscriber to The Courier
For as little as £5.99 a month you can access all of our content, including Premium articles.
Subscribe