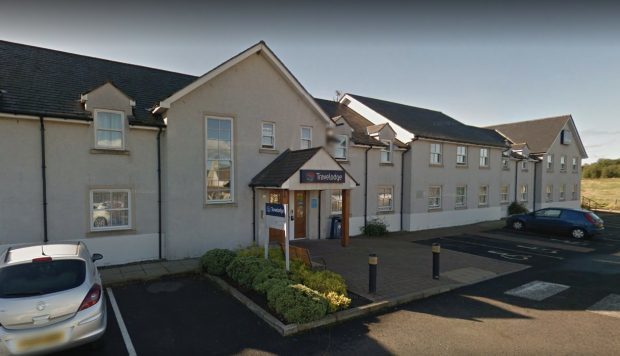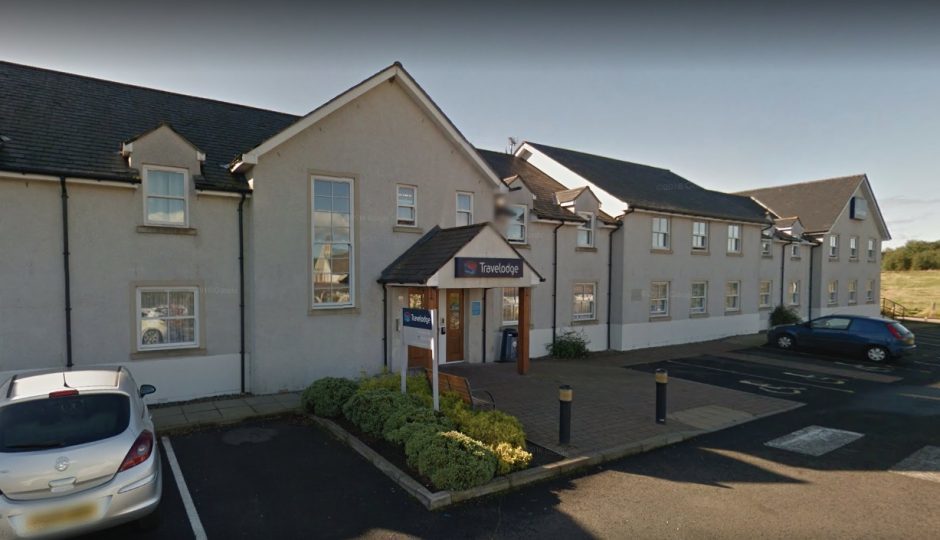 Goldfish called Harry and Meghan, a flower arch, a suitcase of whisky, wedding vows and a luxury car make the 2019 Travelodge list of bizarre left-behinds in Dundee.
Travelodge, has revealed some of the interesting items left behind in its 46 hotels across Scotland during the last 12 months.
They include an incident in a Perth Travelodge, where the hotel team had the challenge to reunite a left-behind mother-in-law with her new daughter-in-law.
Detailed below are some of the unusual treasures that have been left at the three hotels in Dundee.
They include:
A family tree
A pair of Goldfish called Meghan and Harry
A lucky cricket bat
A suitcase full of miniature whiskies
Handwritten wedding vows
Dennis the Menace outfit
A flower arch
A Mont Blanc fountain pen
A BMW car
A series of diaries belonging to a teenager
Interestingly, the hotel chain has seen a growing trend in wedding props, wedding attire and even a mother-in-law being left behind at its Scottish hotels.
A forgetful bride left behind her 3ft lucky heather bouquet at Edinburgh Central Travelodge Plus and had to make a 100-mile return journey to pick it up. The housekeeping team at Glasgow Central Travelodge got quite a surprise to find a necklace made from £50 notes that the groom forgot to pack after his big Asian wedding.
A frantic forgetful bride staying at Edinburgh Princess Street Travelodge got quite a shock when she got to the airport to leave for her honeymoon to realise that she had left her Cartier wedding ring and engagement ring under the pillow. Luckily the hotel manager speedily got to the airport in time to reunite the bride with her rings.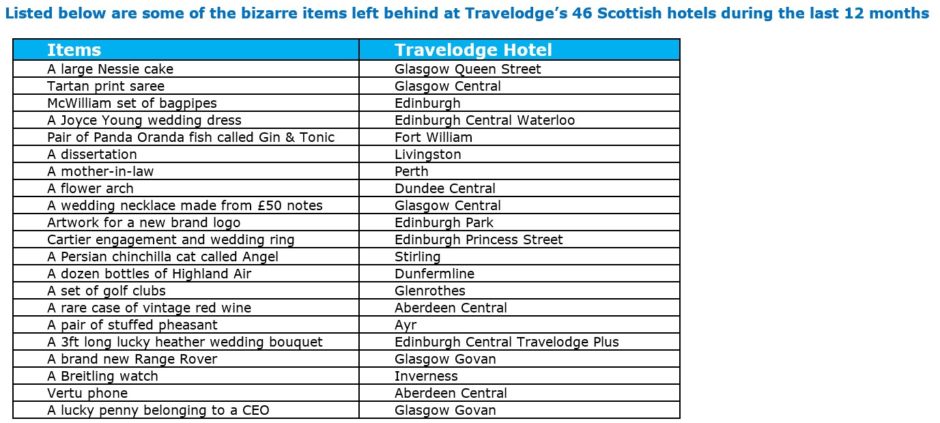 During the last 12 months, Travelodge hotel staff have seen a growing trend in forgetful pet owners. A cat show enthusiast staying at Stirling Travelodge thought her husband, John had placed her treasured Persian Chinchilla cat, Angel, into the car and only realised Angel was still in the room, 50 miles into their journey.
One forgetful owner staying at Fort William Travelodge with his pet Panda Oranda fish called Gin & Tonic – went into town for a walk before his drive home and decided to pack Gin & Tonic upon his return, but forgot to do so and came back a few days later to pick them up.
The hotel chain has seen a rise in more executive items being left behind my business customers at its hotels. This includes a brand new Range Rover being left behind at Inverness Travelodge.  A corporate guest from a well-known company left behind an entire folder of designs for a new brand logo behind and had to send a courier to pick it up ahead of his presentation.
Other interesting finds include an antique pair of stuffed pheasants, a case of rare red wine and a dozen of bottles of Highland air.
Shakila Ahmed, Travelodge Spokeswoman said: "We do get a range of interesting items left behind.  This year's Scottish audit includes: a large Nessie birthday cake, a tartan print saree, a set of McWilliams bagpipes, bottles of Highland air, a 3ft lucky heather wedding bouquet, and even a mother-in-law."
"Interestingly our Scottish hotel teams have reported a rise in wedding and proposal props and attire being left behind in our hotels in 2019. This included a 3ft wedding bouquet made out of lucky heather along, a wedding necklace made out of £50 notes, a Joyce Young wedding dress and a mother-in law."
"When it comes to why so many of our customers forget their treasured items, it's basically due to us all being time poor, juggling multiple tasks and being in a hurry to get from A to B. In the rush, valuable possessions are easily forgotten."
Top ten most popular items left behind in Travelodge hotels during 2019:
Chargers for mobile phones and electronic devices such as laptops
Mobile phones, tablets and Kindles
Business papers / notepads / presentations
Books
Teddy Bears
Toiletry bags with contents
Jewellery
Clothing
Toys
Gifts / presents
All items left behind in Travelodge hotels that have not been claimed within three months are donated to the local British Heart Foundation Charity Shops, Travelodge's nominated charity partner.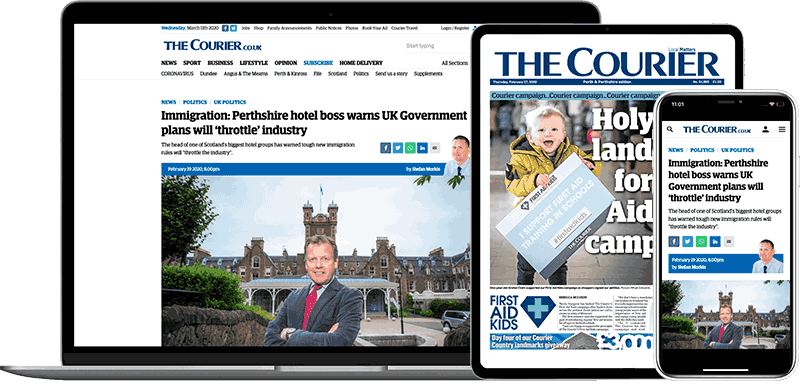 Help support quality local journalism … become a digital subscriber to The Courier
For as little as £5.99 a month you can access all of our content, including Premium articles.
Subscribe