VIDEO: Rats spotted as mountain of rubbish festers in Perth city centre alley
By
Sean O'Neil
January 7 2020, 8.06am
Updated: January 7 2020, 12.38pm
Rats have been swarming a mountain of foul-smelling rubbish which has been festering in a city centre alley for weeks.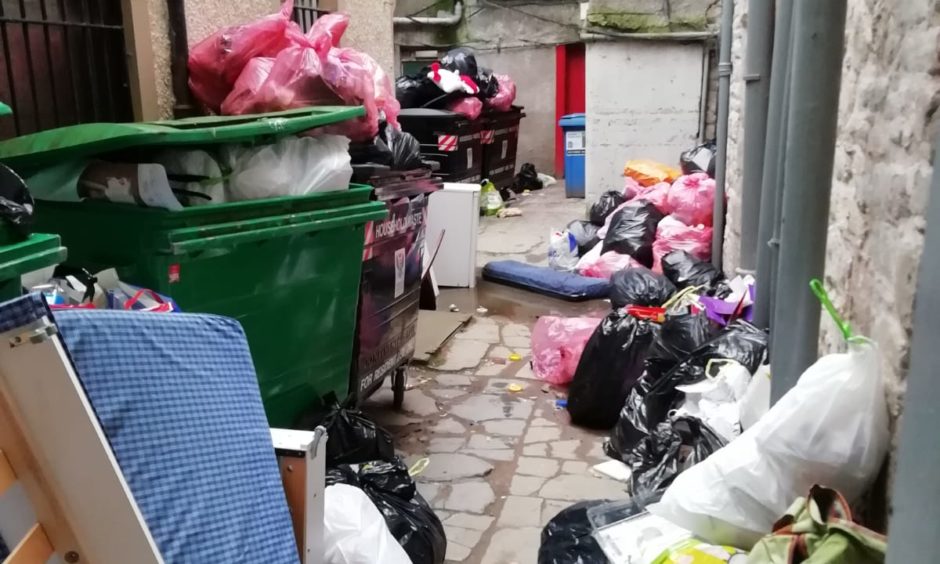 Waste including fridges, chairs and an air conditioner, among everyday household refuse, has been abandoned in the alleyway connecting High Street and Skinnergate, despite numerous complaints from business and residents to Perth and Kinross Council.
Local businesses are blaming the roll-out of the council's new scheme in November which saw 90 skip-style containers installed as "bin hubs" around the Fair City.
They believe the new communal bins have become a magnet for fly-tippers, who have been dumping rubbish around them.
The owner of one affected business, who wished to remain anonymous, said: "It's worse than disgusting.
"There have been rats, the smell is horrendous.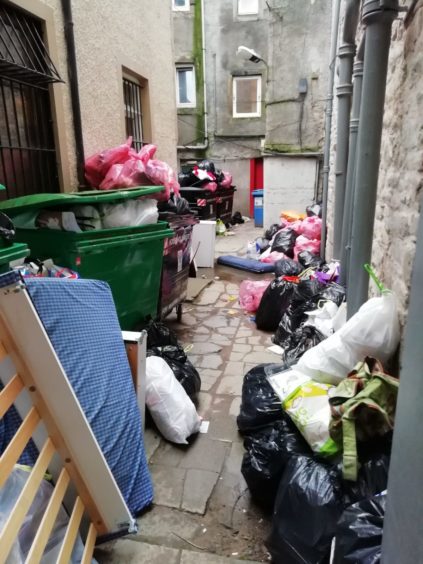 "I contacted the council a few times, the first time was last week, and we've been told that it's Christmas waste but I'm not convinced.
"There's a fridge, a bed, a chair and an air conditioning unit.
"The big bins are a great idea but because these are hidden (in the alleyway) people just chuck anything down there.
"If they were on High Street they would have been lifted."
A second business backed up the claims that the waste was not down to the holiday season.
They said: "Christmas happens every year.
"And now the council has introduced these new bins and I don't know if that's got anything to with it but I know we haven't had any problems during previous Christmases.
"It's a shame for the residents. It's disappointing it's got into that state – I was quite shocked. It's bizarre."
Residents in nearby flats confirmed  they had seen rats among the rubbish.
One said: "I saw a rat on Thursday when leaving my property to go to work."
The bin scheme being blamed for the mess is a £63,000 plan from the council to stop refuse sacks being torn open and scattered on the city centre streets.
Before the communal bins were introduced, residents had to leave bags in the street for collection, where they were often ransacked by gulls.
Perth and Kinross Council was contacted but did not comment on the rubbish being dumped between High Street and Skinnergate.
In August last year it was revealed that no one had been prosecuted for fly-tipping in Perth and Kinross for nearly a decade, despite thousands of complaints being made.
Alleged offences were reported to the environmental health team 3,728 times between 2010 and 2018.
Data released by Perth and Kinross Council showed, of these cases, none resulted in a successful prosecution.