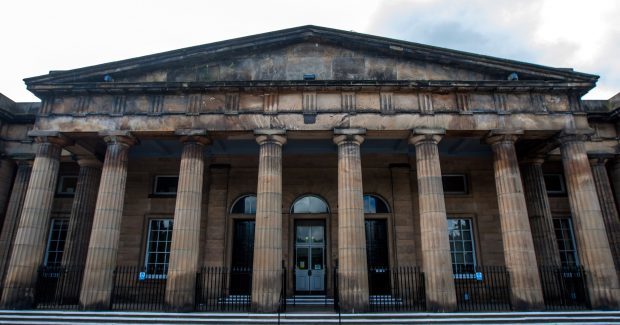 A tandoori chef who once claimed he could get drunk on curry soup has been fined £750 after being found guilty of kicking a police officer.
Aleem Mohammed, 51, stormed into the kitchen of a takeaway shop and confronted staff after being told they had been nominated for an award.
He was told to leave but continued to shout and swear and brawled with police when they were called to help remove him from the premises.
Mohammed claimed he had been punched in the face but a sheriff said he did not believe his defence and found him guilty of three charges.
He was found guilty of attacking PC Nathan Shields by kicking him on the body at the Chilli Pepper takeaway in Perth on August 27.
He was also found guilty of resisting three police officers by going limp to avoid arrest and then struggling violently with them, and causing fear or alarm by shouting and swearing.
Depute fiscal Michael Sweeney told Perth Sheriff Court: "The accused was conducting himself in an aggressive and confrontational manner.
"He was given the opportunity to leave, but his behaviour continued. Handcuffs were placed on him and he behaved in the manner described."
Sheriff Robert Dickson told Mohammed: "There are two totally contradictory versions of what happened. You were behaving in an unreasonable manner.
"You were shouting and swearing and you did resist officers and you did kick one of them, so I find you guilty of all three charges."
In a previous case, Mohammed claimed the combination of spices in his curry soup had been responsible for his drink driving.
He claimed he had not touched alcohol for two months before the incident and said a bowl of curried soup had put him over the legal limit to drive.
The court heard Mohammed thought a combination of cinnamon, cardamom, curry powder, cloves and bay leaves had affected his breath alcohol reading.
He said: "I made a big pot of soup with Asian spices. It just made me feel warm because there were a lot of spices."
Sheriff Robert McCreadie said: "If it was a bowl of soup, it would have had to have been almost totally alcohol."
He added: "He has utterly failed to satisfy me that this bowl of soup could be the reason for having 57 mics of alcohol in his body.
"I simply find that incredible."
He banned Mohammed, who already had a prior drink drive conviction, for three years.