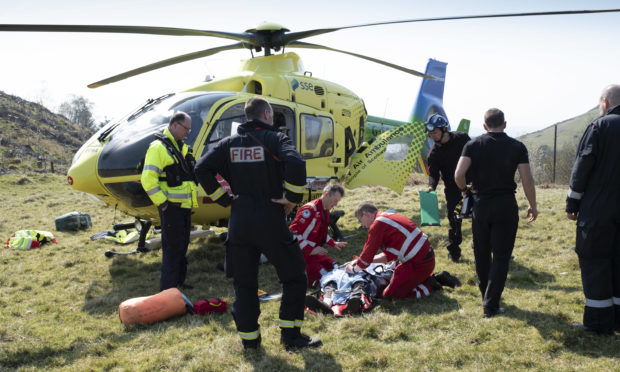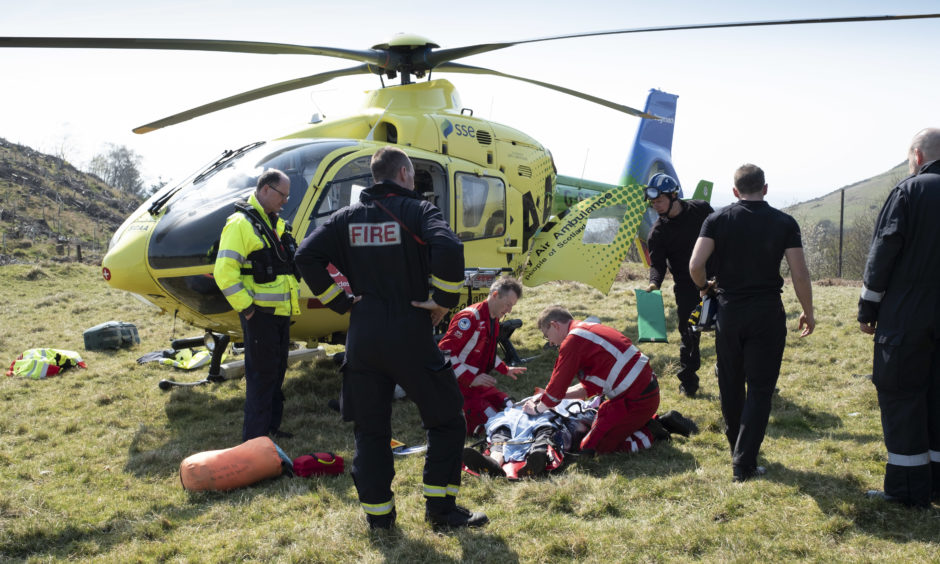 Scotland's Charity Air Ambulance (SCAA) saw a 47% rise in the number of severe trauma cases it attended last year, with nearly a third being  road traffic collisions.
The Perth-based paramedic team rushed to 154 acute injury call-outs, with 64 involving car accidents. They attended 352 life-threatening emergencies in 2019, an 8% increase on the previous year.
Nearly a quarter of the team's call-outs were in Tayside with Ninewells hospital in Dundee seeing the largest intake of SCAA patients.
In addition to the 64 road traffic collisions, the crew also attended 59 cardiac-related emergencies, 16 strokes, 35 falls, 18 equestrian accidents, 16 industrial accidents – including agricultural – and six emergencies involving animals.
SCAA said its Helimed 76 assisted in cases ranging from major multiple casualty trauma incidents to single patient illnesses in remote and rural locations.
Nick Harvey, director of fundraising and communications said: "2019 has proved another extremely busy year for the crew at SCAA and their hard work, expertise and commitment have saved many lives and benefited hundreds of others throughout Scotland.
"Our ability to respond quickly and effectively continues to prove a vital resource in the 999 response network and pre-hospital care chain of survival."
Patients helped by SCAA ranged from babies to the elderly and there was an increase in the number of infants being attended, from eight to 17.
A further 10 patients were children under the age of 12, while 14 were teenagers resulting in a 95% increase in the number of patients under the age of 18.
The helicopter crew's busiest month was August, with Fridays seeing the greatest demand on the charity service.
The Highlands was responsible for the largest number of call-outs for the team, while 62 responses involved air transfers from remote or island locations.
A total of 15 hospitals across Scotland were used by SCAA during rescue operations  including Queen Elizabeth University Hospital at Glasgow, which took in a quarter of patients, Crosshouse at Kilmarnock (14%) and the Royal Alexandra at Paisley (19%).
The charity's paramedics also attended 55 emergencies by land in their rapid response vehicle.
The busy year for SCAA comes as they get ready to launch a second base in Aberdeen.
The £6 million project will strengthen the SCAA fleet, which will continue to work alongside the two government-funded helicopters based in Glasgow and Inverness.
Mr Harvey said: "SCAA is looking forward to launching it's second aircraft in the spring, allowing the charity to respond to even more emergencies in 2020, taking more care to more people more quickly from its two bases at Perth and Aberdeen."