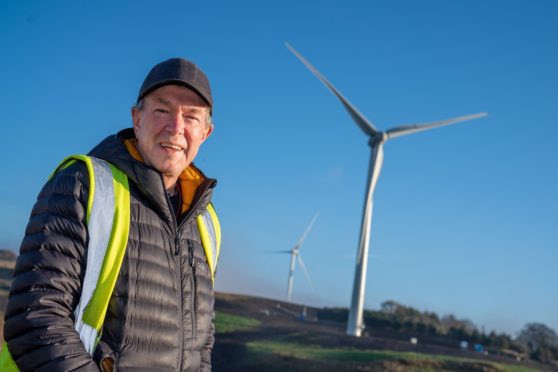 Communities across Perthshire and Fife are hoping to invest in newly erected wind turbines as a way of financing causes in the area.
Organisations in Glenfarg, Abernethy, Bridge of Earn and Strathmiglo want to purchase the turbines at Binn Farm Ecopark and use profits from the sale of electricity to benefit their local communities.
Community councils in the area and the Glenfarg Renewable Energy Association (GREA) have been invited to take over two of the four new turbines at the Ecopark.
The offer is dependent on individuals in the area taking shared ownership in a community benefit company.
The groups are now holding a series of public meetings in order to garner the level of interest in the project.
GREA has been trying to get involved in a green energy project since 2014 and had previously put in plans for its own wind turbine.
Cedric Wilkins, chairman of GREA, said: "The communities have received an offer from developers for ownership of two of the turbines.
"The meetings will discuss this offer and see what the communities wish to do about it.
"It will depend on the reaction to the offer. It's quite a complex arrangement so there's a lot for discussion."
Through the offer communities would be able to use profits made from electricity fed into the national grid from the two turbines at Binn Farm.
The turbines will also help reduce the carbon footprint of Binn Farm. Bosses have said they believe it is the way forward for industries.
The organisation also says the offer is part of its strategy to help neighbouring communities.
John Ferguson, head of strategy at Binn Farm Ecopark, said: "As we build the Ecopark we're trying to see how we can help the local communities, that is part of what Binn try to do."
The park is set to operational by March 31 and community bodies are pushing ahead with the project by holding two public meeting this weekend.
The first will be held on Saturday at 7pm at Williamson Hall in Abernethy before a second meeting at Glafarg village Hall on Sunday at 7.30pm.