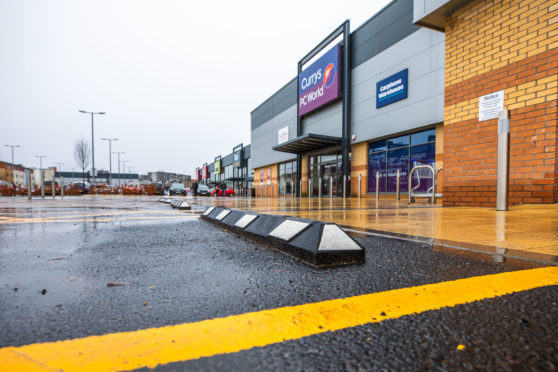 Pedestrian safety measures introduced in a Perth retail park are posing a hazard to shoppers, it has been claimed.
Users of Perth's St Catherine's Retail Park have come forward to express their frustrations over the layout of its car park and the implementation of raised ledges by disabled parking bays, which were supposed to increase pedestrian safety.
Shoppers spoke out after The Courier shared the experience of Perth woman Heather Innes, who took a heavy fall over one of the ledges outside Dunelm Mill.
'I took a very heavy fall': Disabled Perth woman calls for redesign of 'ridiculous hazard' at car park
Heather's story has since prompted other users of the car park to come forward to share their own experiences.
Killin woman Emma Paterson was visiting Perth at the end of last year when she suffered a similar fall.
Emma had parked in a regular parking space and walked towards Dunelm Mill, crossing the disabled bays in doing so.
She said: "Due to the fact that there were no cars parked in the disabled bays, I walked across them and the next thing, I am on the ground.
"I am a fairly fit person, have no problem with my eyesight but walking across the parking bays, I had no reason to look out for hazards such as the ledges, which are black."
She added: "I can see no reason for them to be there.
"If they do need to be there then they need to be brightly coloured."
She also suggested that bollards should instead be implemented in place of the ledges.
But Emma is not the only user of the car park to have spoken out about the dangers of the ledges.
Perth resident Morna Strachan echoed Emma's concerns.
She spoke of the danger the ledges pose, and said they should not have been put into place.
She said: "The ledges should be removed and bollards put in place, similar to the other stores.
"The ledges are not clearly visible in the dark and if raining, the ledges are almost camouflaged."
Property development company Montagu Evans, which deals with the retail park's car parks did not respond to requests for comment following further concerns being raised over the ledges.
However, after Heather's fall a company spokesperson said: "We take the safety of all users of the retail park extremely seriously, including customers and shop staff.
"We have a duty of care to customers of the park and ensure that the park is inspected regularly and any defects repaired.
"The retail park has recently undergone a significant refurbishment with new paving and landscaping and a car park layout partly designed to slow traffic down to improve safety for pedestrians."