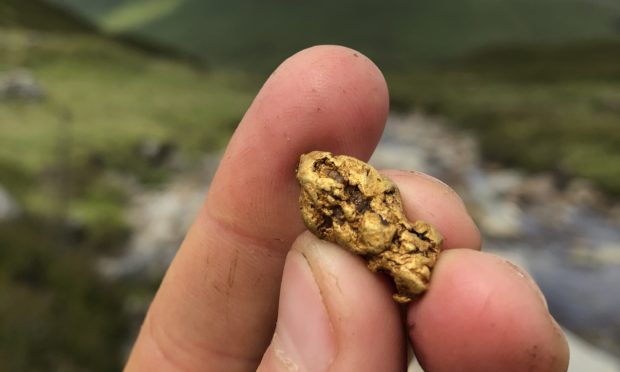 A minerals specialist hopes gold worth £300 million could be extracted from hills in Perthshire.
Erris Resources believes there is "excellent potential" in prospecting for gold in sites to the south of Loch Tay.
It plans to start prospecting and mapping shortly with the ultimate aim of finding 250,000 ounces of gold.
The firm's licence covers an area of more than 90 square miles but its focus is on the village of Ardtalnaig and a site it refers to as Glen Almond, located four miles south.
A sample taken from a historic mine at Ardtalnaig returned the presence of gold, silver, lead and zinc.
Meanwhile, at Glen Almond two "high-grade" samples of gold have been found, which the firm describes as "very encouraging".
The firm has a four year timeframe for the exploration of gold in the area.
Chief executive Anton du Plessis said the area was "highly prospective" for gold as he revealed Erris Resources had acquired 80% of the Loch Tay project from GreenOre Gold on Wednesday.
He said: "New results received and further fieldwork carried out when weather permitted over the past month have been very successful in expanding the gold potential of the project's key targets, Ardtalnaig and Glen Almond."
A team from Leeds University found a 10 gram gold nugget in July. The same project found 77 fine grains of gold while panning further downstream.
The exploration sites are 25 miles from Scotgold's mine at Cononish near Tyndrum, which is also close to starting production.
Mr du Plessis said the next stage of the project is further soil sampling in the target areas with the intention of identifying possible drill targets.
He said: "Located in a well-mineralised district, our focus is now on advancing the project to initial drill-testing, targeting 250,000 oz gold, which is a similar scale to the Cononish resource where a gold mine is expected to be in production soon.
"The current mapped footprint of mineralisation and alteration certainly shows this potential."
He added: "The early success in locating new outcropping high-grade gold mineralisation is very encouraging as the company prepares to explore the area."
In April last year, police were called to chase away alleged gold prospectors panning for nuggets at the Birks of Aberfeldy, sparking fears for a summer gold rush.
The area was the scene of a mini-gold rush in the early 2000s, thought to have been triggered by a rumour about Aberfeldy gold at a prospectors' convention.
Police called to chase away alleged prospectors seeking gold in Perthshire river
Only two rushes in Scotland for gold
Goldmining in Courier Country dates back to Fife in 1852, during one of only two gold rushes in Scotland.
With gold valued at £4 an ounce and a skilled worker earning less than £50 a year, the prospect of making a year's wages in less than a month inspired labourers to head for the hills around Auchtermuchty and Kinnesswood.
Unfortunately, most did not know how to extract gold or what natural gold looked like. Their sacks of glinting minerals mostly turned out to be pyrite, known as fool's gold or fairy balls.
In Perthshire, Cononish near Tyndrum was historically known for lead mining but gold was not discovered there until the 1980s.
A 10oz nugget from Cononish was the first commercially mined gold to be extracted in Scotland.
Mine owners Scotgold Resources released 10 limited edition 1oz gold rounds in 2016, which sold for an average of £4,557 per oz.
Each round was stamped with the Scottish gold mark of the stag's head and has a unique serial number from the Edinburgh Assay Office.
In December, an anonymous treasure hunter claimed to have discovered the UK's largest gold nugget in an unnamed Scottish river.
Weighing 4.2oz, the gold was in two pieces which fit perfectly together, gaining it the name "the Reunion Nugget".
It could be worth £80,000 but its provenance has yet to be confirmed.
The Douglas Nugget holds the current record for the largest gold nugget found in the UK for 500 years.
It was also discovered in a Scottish river and its finder kept quiet for two years before revealing his treasure.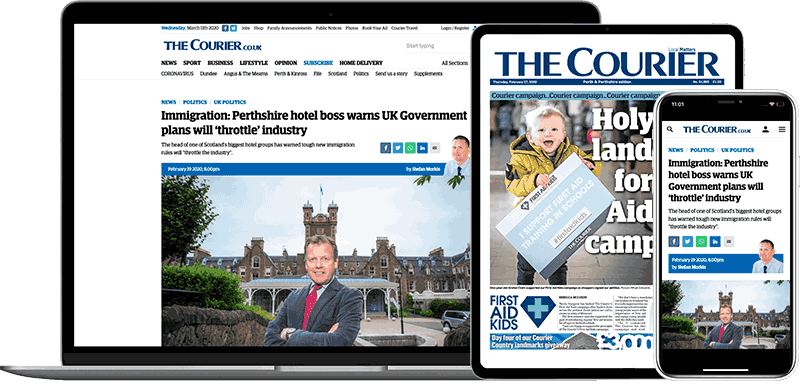 Help support quality local journalism … become a digital subscriber to The Courier
For as little as £5.99 a month you can access all of our content, including Premium articles.
Subscribe