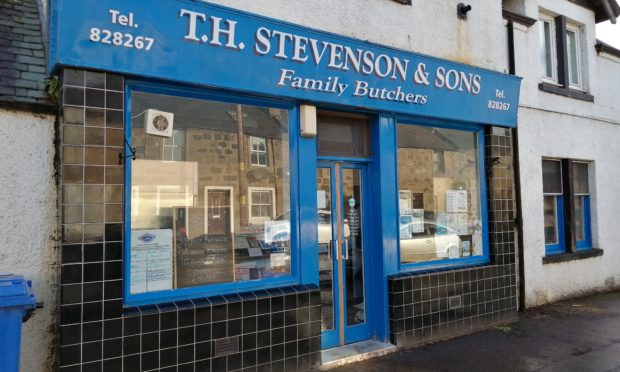 A gang of hooded thieves were caught on camera hauling a shop till along a Perthshire street after raiding a butcher shop.
The intruders forced open the door of TH Stevenson and Sons on Stanley's Percy Street during the early hours of Friday morning, stealing the till containing a three-figure sum of money.
The Stanley break-in happened between 3.10am and 3.40am, around half an hour before a similar raid was attempted at a store in Balbeggie, 14 miles away.
The gang was caught on CCTV by a nearby Spar store before and after they raided the butcher.
A shop employee at Spar told The Courier: "They go past the CCTV twice and then the third time they're running back the way with the till.
"There was three people and they just go straight past. They obviously know where they're going and what they're going for.
"They have their heads down and hoods up. They must have known there was CCTV and they've parked their car down a side street."
The shop worker believed from what they had seen in the footage the culprits were probably quite young and perhaps teenagers.
TH Stevenson and Sons sits between two shops on Percy Street – the Spar and Stanley Store. It was closed when The Courier visited on Monday.
Both shops have been victims of break-ins during the last year, although they are not believed to be connected to Friday's raid.
However the theft from the butchers could be linked with a break-in at GC Store in Balbeggie on the same night, with Tayside Police saying they are "keeping an open mind".
GC Store shopkeeper Garry Casson confronted a gang of four intruders as they tried to smash their way into his shop at around 4am on Friday morning.
Four men used a hammer as they attempted to break into the shop before fleeing empty handed when they were disturbed by the shop owner.
The gang sped off in a dark-coloured car which was parked nearby.
Mr Casson, who lives beside the shop, said: "I woke just after 4am to the sound of banging on the door.
"I got up, ran round and there was this group of men standing at the front of the shop. As soon as they saw me, they ran off and got into a car and sped out of the village."
Police Scotland said the cases were "not officially being linked at this stage, but we are keeping an open mind".
Speaking about the Stanley incident, a spokesperson for Tayside Police said: "A door was forced open, and a three-figure sum of cash was stolen from the shop.
"Three people were seen to run off from the store in the direction of Charlotte Street.
"Unfortunately we don't have any further descriptions or information about them at the moment."
Anyone information should call 101 or contact Crimestoppers on 0800 555 11 quoting incident number 0443 of January 24.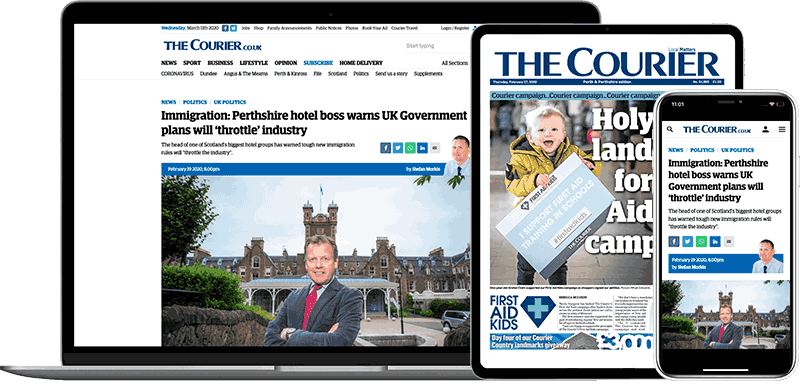 Help support quality local journalism … become a digital subscriber to The Courier
For as little as £5.99 a month you can access all of our content, including Premium articles.
Subscribe